Foundation Subjects and RE
Design and Technology - EYFS April 2023
In the Duckling class this term we have learnt how to join pieces of paper and card using a range of techniques, focusing on the flange and slot techniques. We have applied this techniques to design and make a range of different DT items, including Spring blossom trees, Easter baskets and 'bunny-hides' to conceal surprise Easter eggs!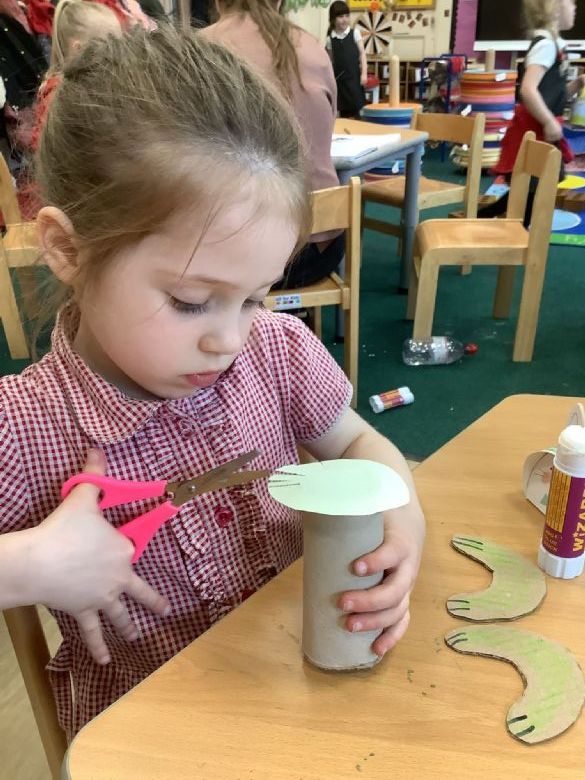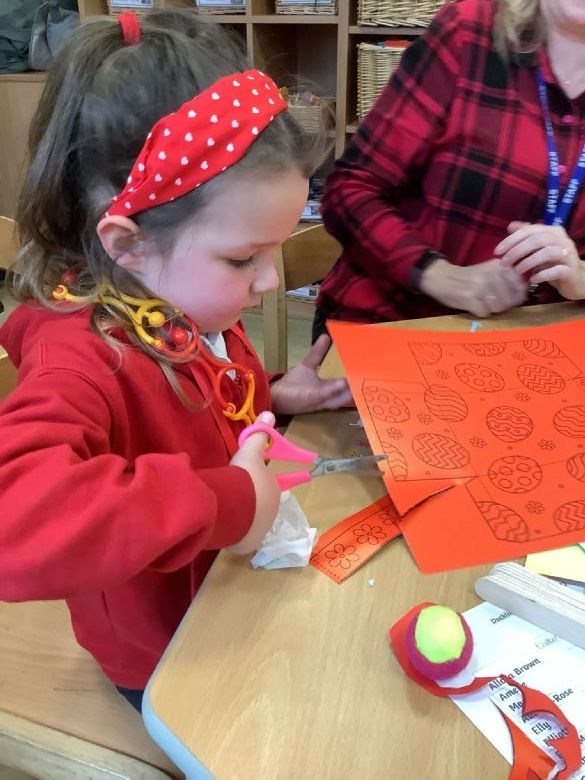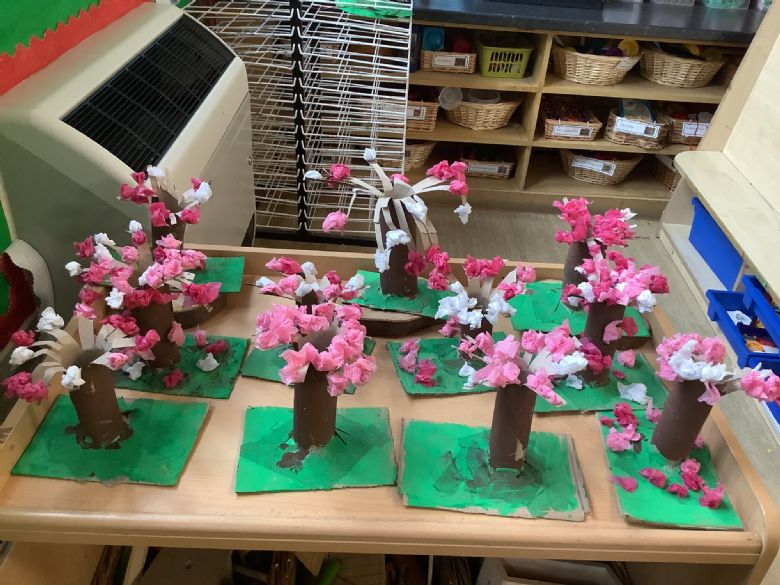 Mother's Day flowers - recycled from plastic pop bottles - March 2023
In the Ducklings class we looked at the shape and colour of a range of different flowers. We then collected empty pop bottles and cut them to look like the petals of different flowers. We painted them with acrylic paint, building up the different effects over several days. We then stuck the flower heads to gardening sticks and put them into a pot, weighted with rice. We gave our Mummies these beautiful everlasting flowers for Mother's Day!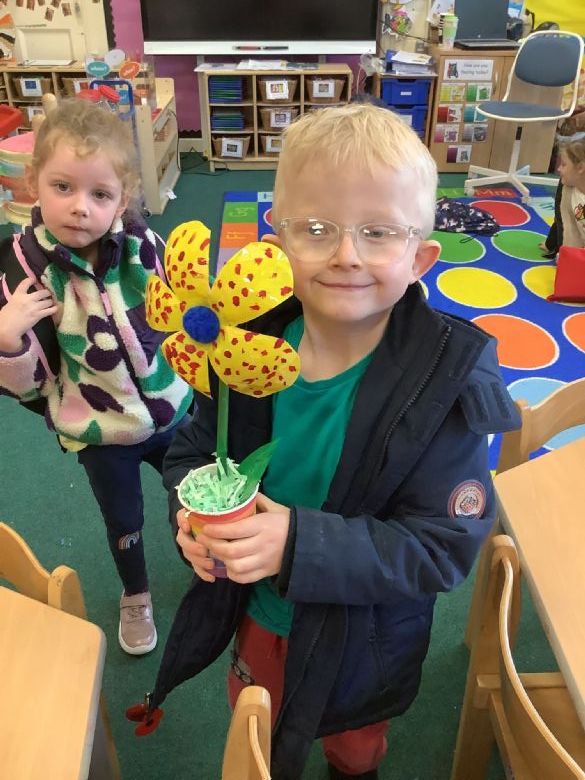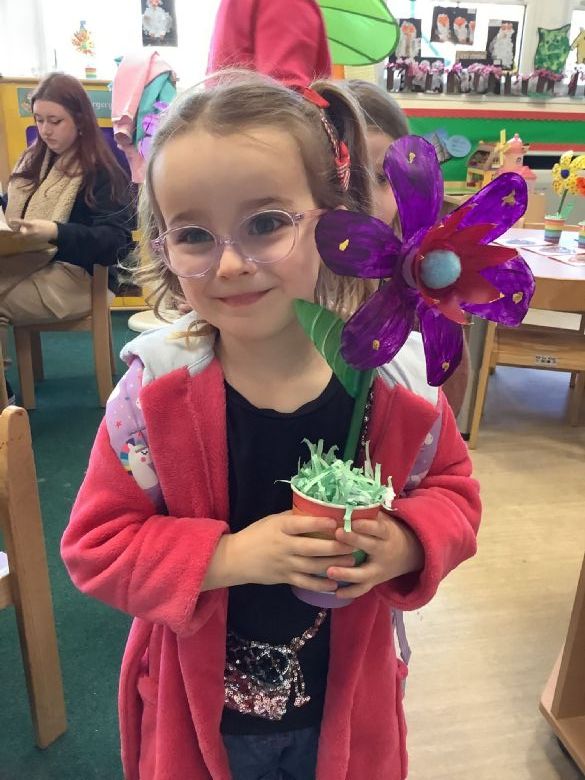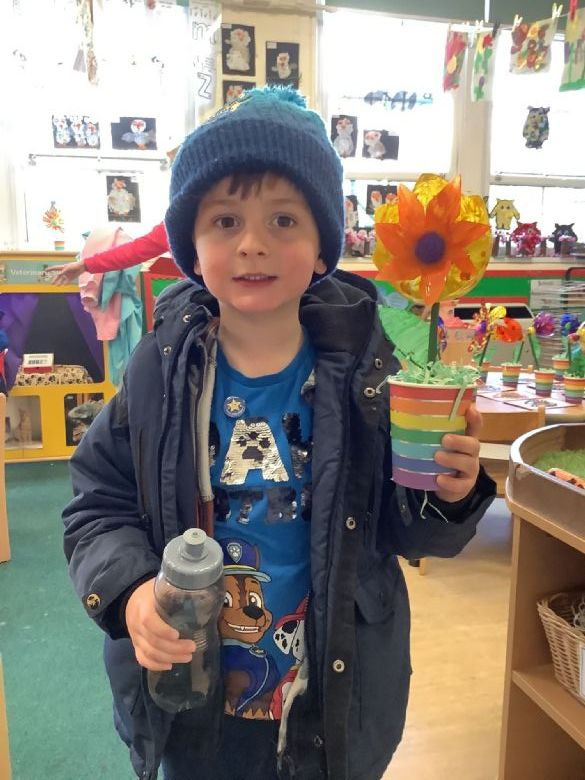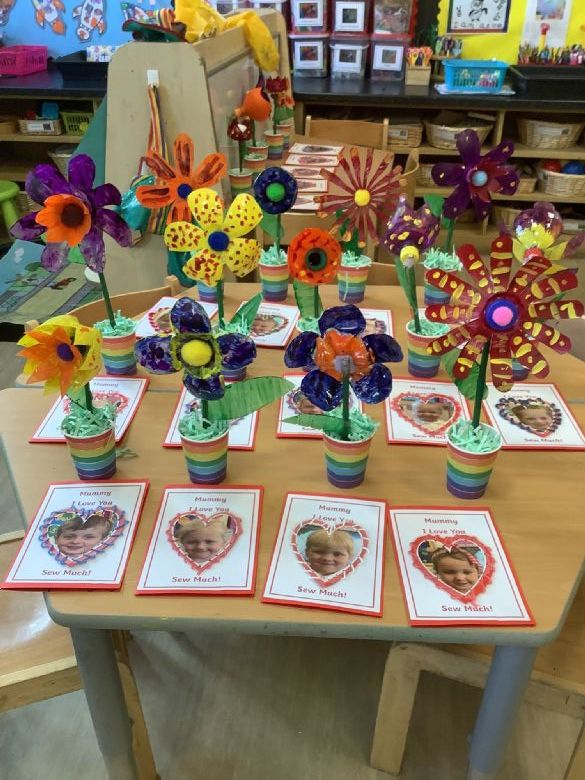 Duckling's threading and sewing skills - December 2022
As part of our theme on 'Old Toys' we read the book 'Old Bear' by Jane Hissey. In our DT lesson, we then had a go at thinking about the features of a bear. We sketched our our own designs and then had a go at stitching, stuffing and glueing our designs together to make our own bears. We were very pleased with our final products and took them home to give as Christmas gifts!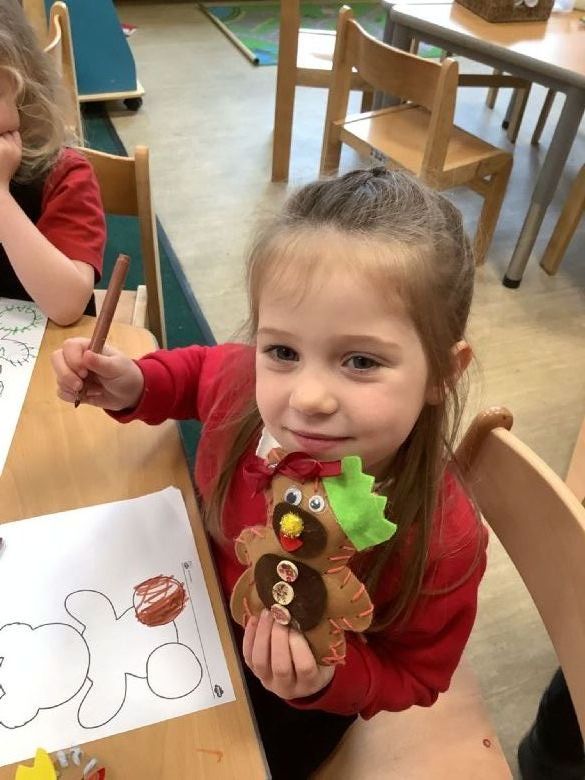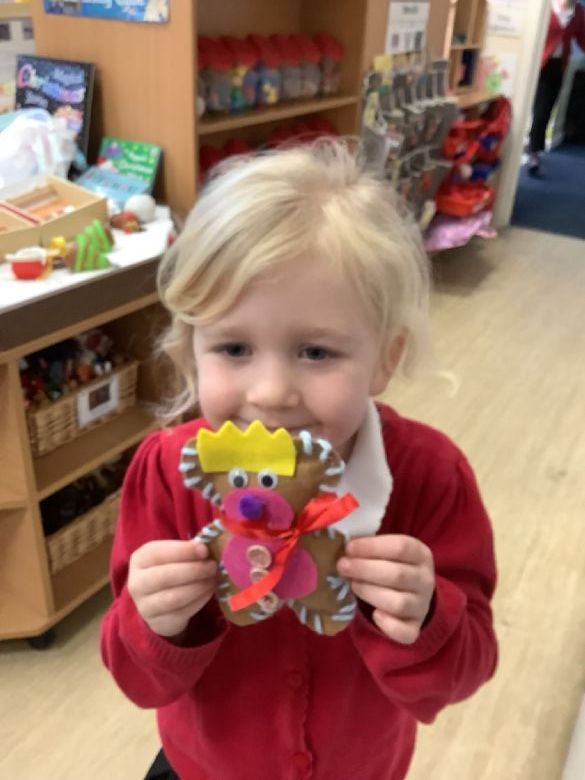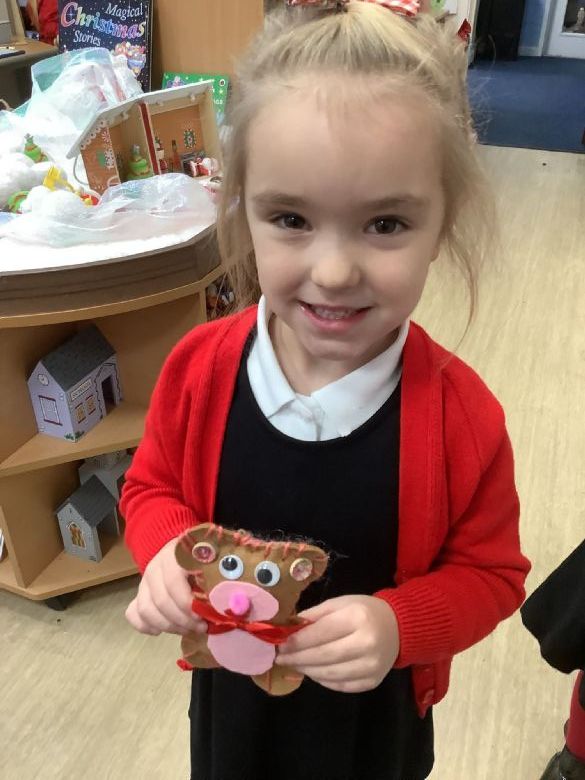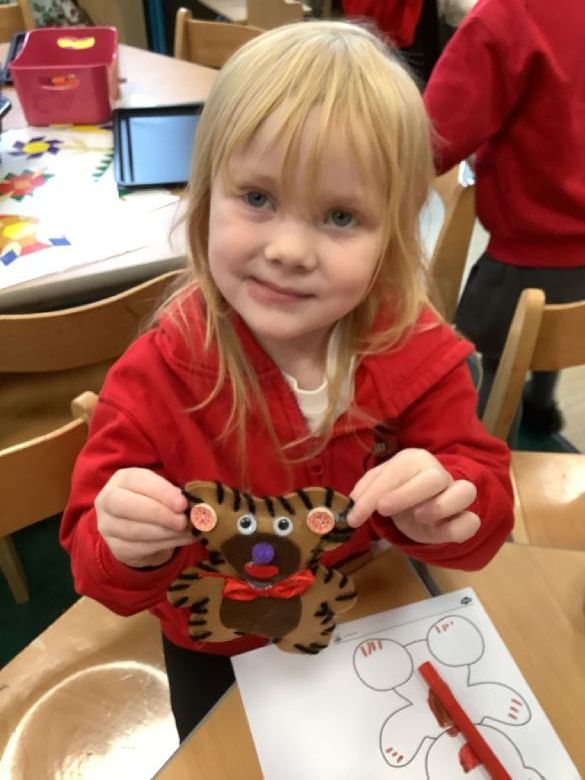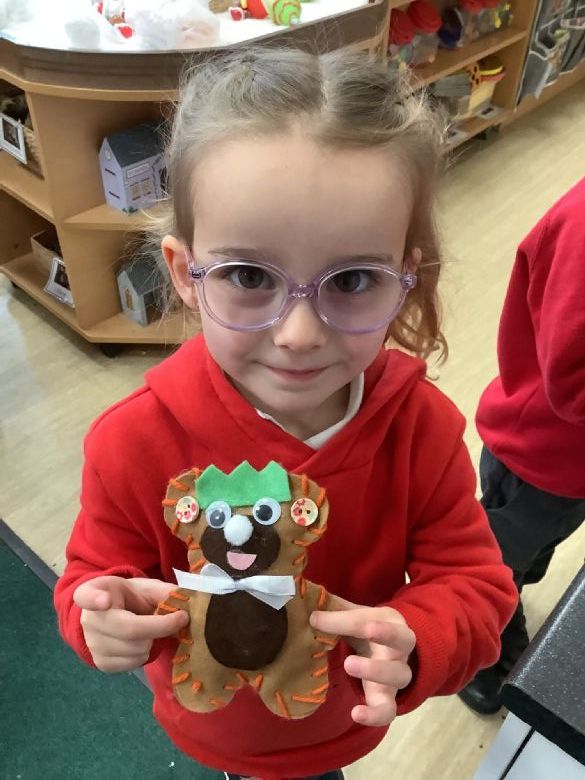 Puffin Class DT skills
This term the children are creating their own moving story book. The children have started to make levers and sliders to have moving pictures! The children loved creating a moving car and rabbit.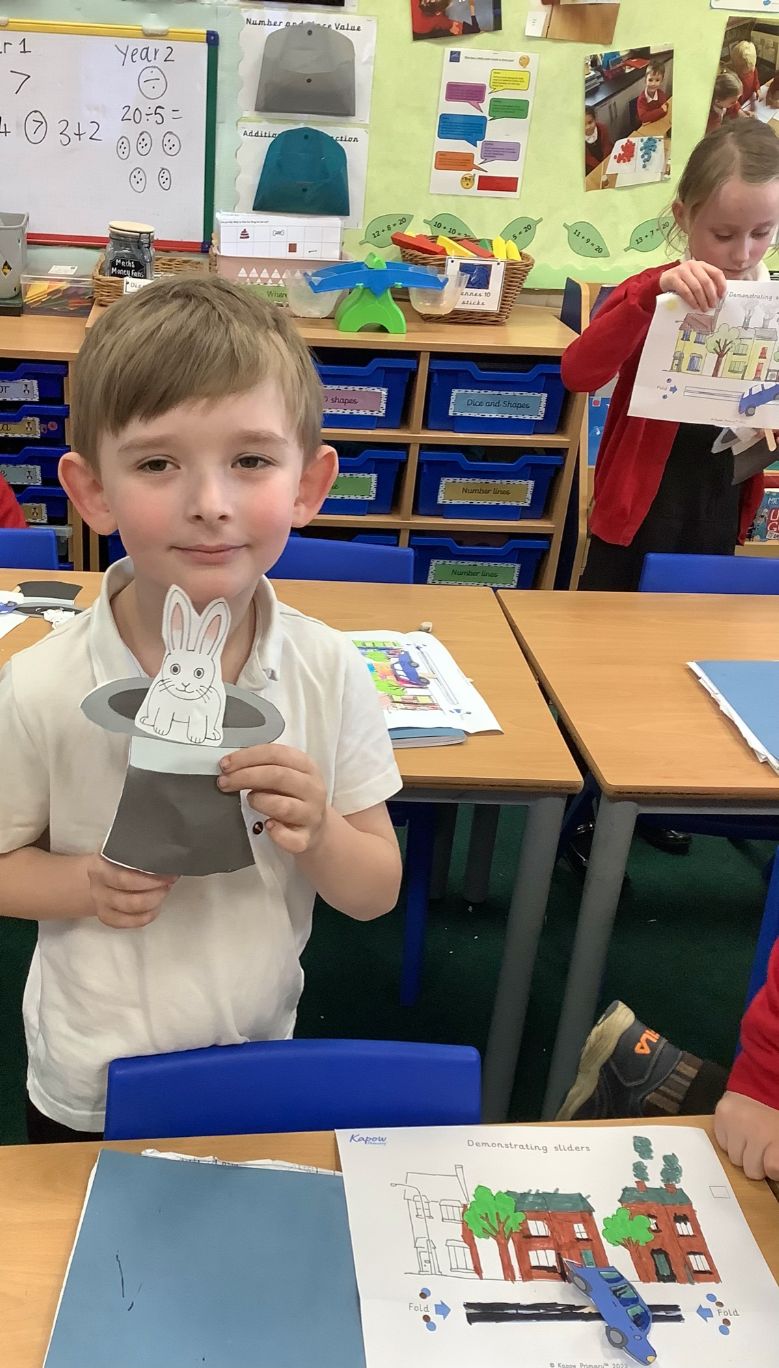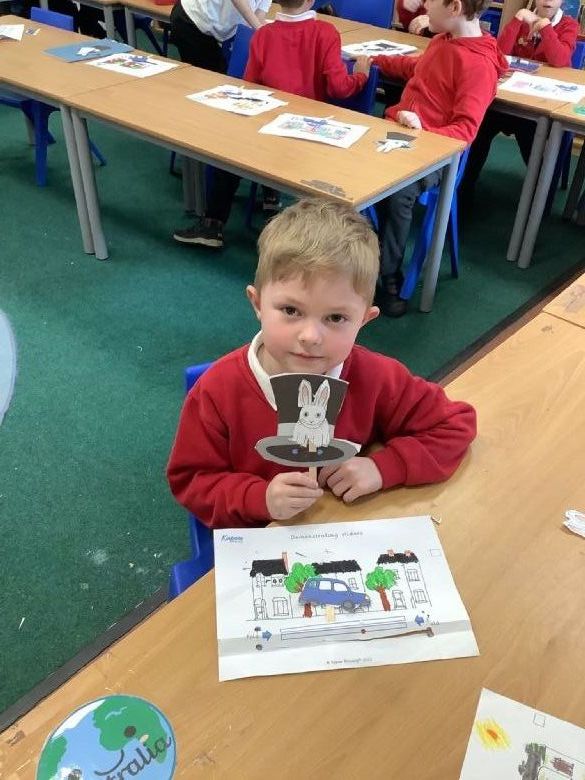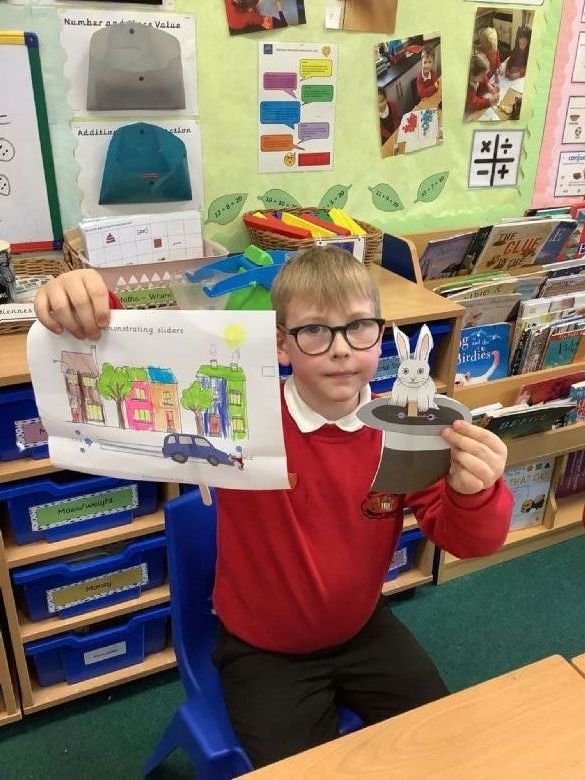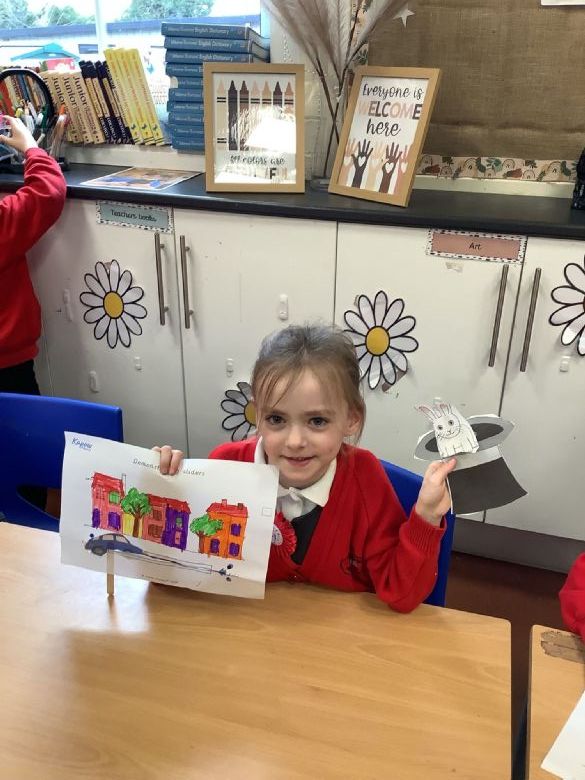 Geography
This term Puffins are looking at different area in the UK. We have looked at the 4 countries in the UK and the landmarks and flags. The children did an atlas scavenger hunt and had to use the index to find the different cities and rivers.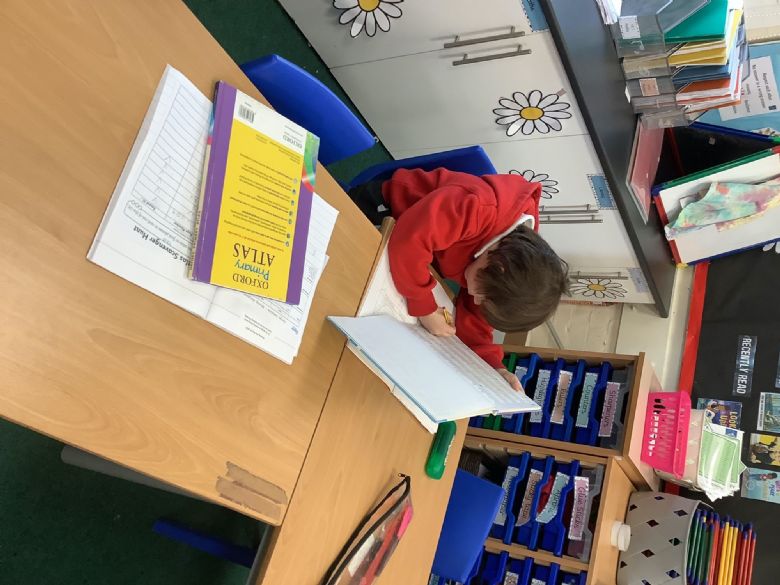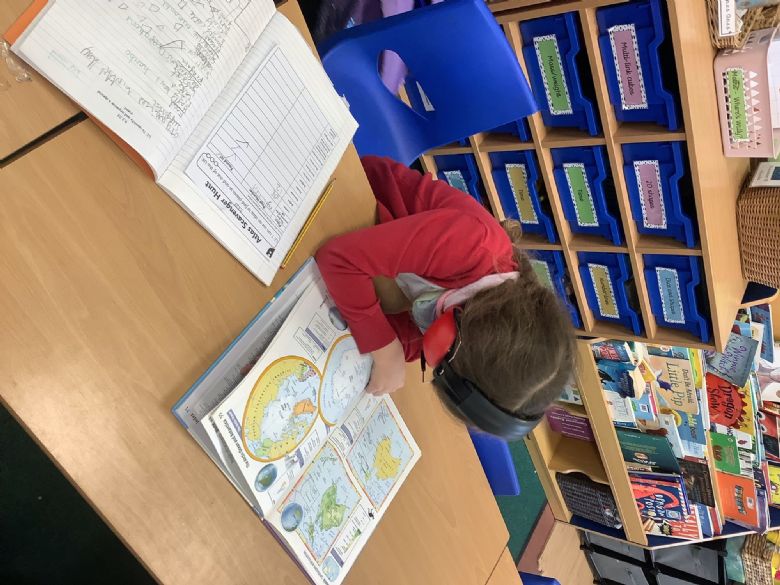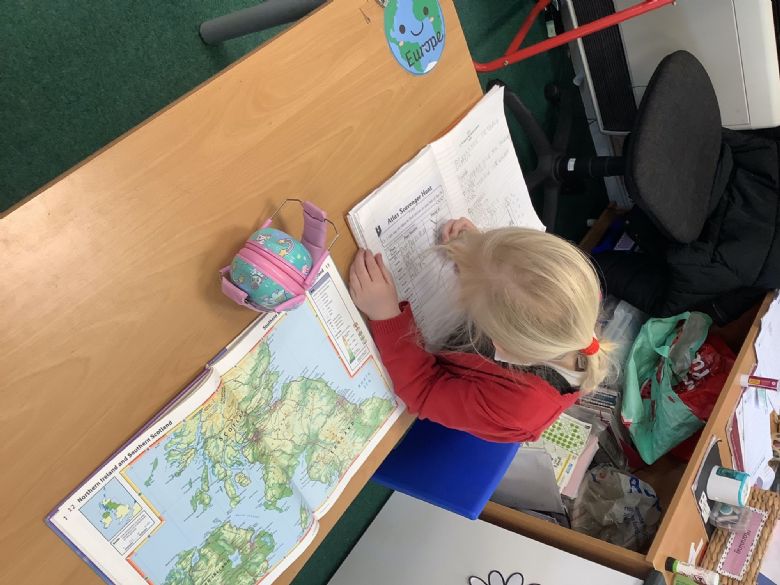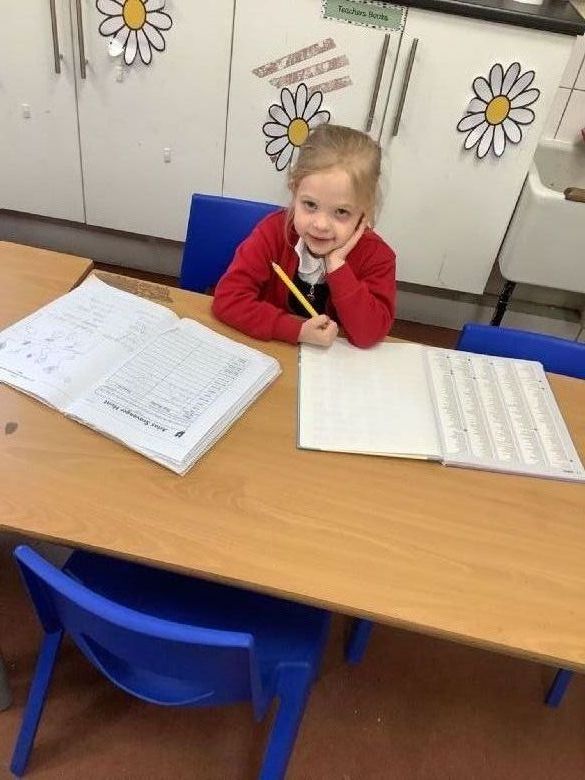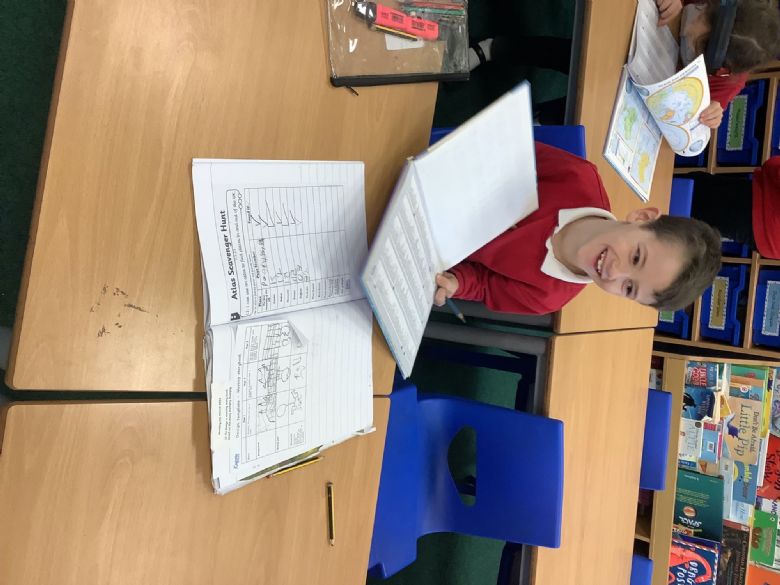 Our whole school topic this autumn term is 'Remember When…'. Each class began this theme by being introduced to the specific topic and discussing what they knew already about it and what they would like to learn. The teachers remind the children of knowledge they have from previous units and this prompts lots of engaging discussion about what our children have already elarned in school and things they know from their own experiences at home. We call these our 'NOOKs'- Notes On Our Knowledge.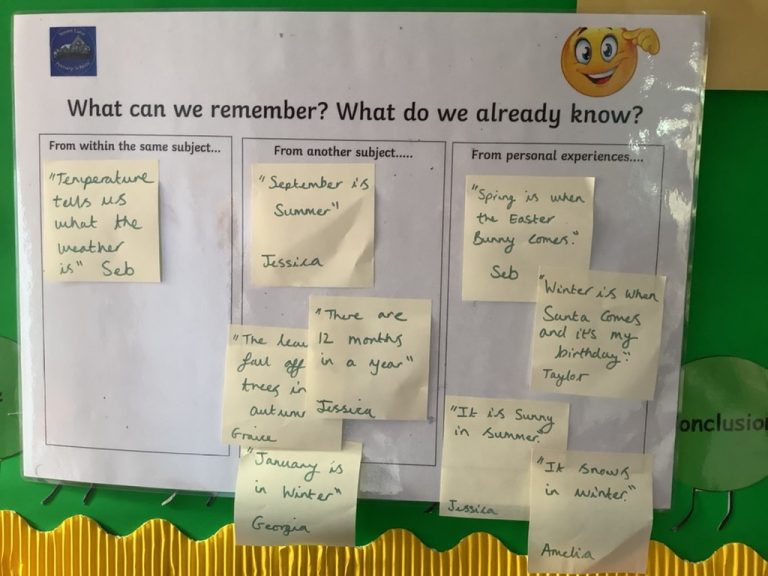 At the end of the topic each class complete a POP task- Proof of Progress task. Look out for these towards the end of each term on this page!
Owl Class DT Project - Seasonal Tarts January 2023
For our food technology project the Owls were learning about the origins of different foods and the impact 'food miles' have on the environment. We talked about promoting seasonal fruits and vegetables and then used some to create a 'vegetable tart'.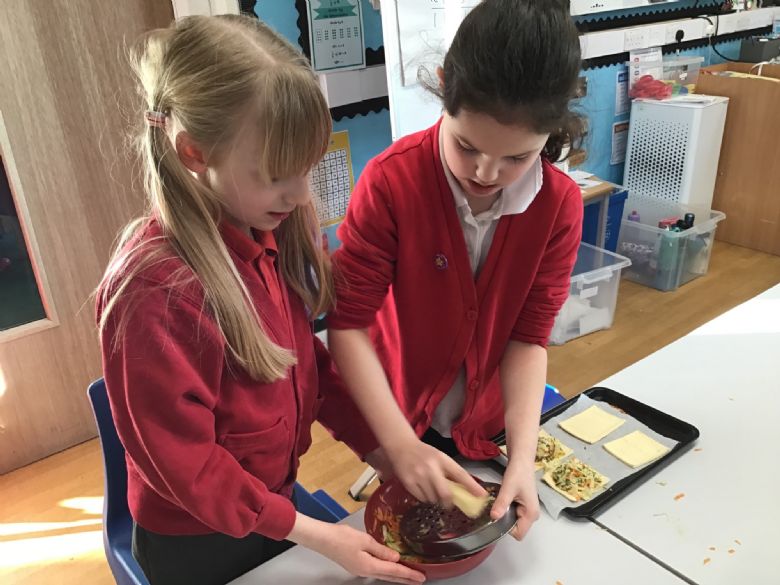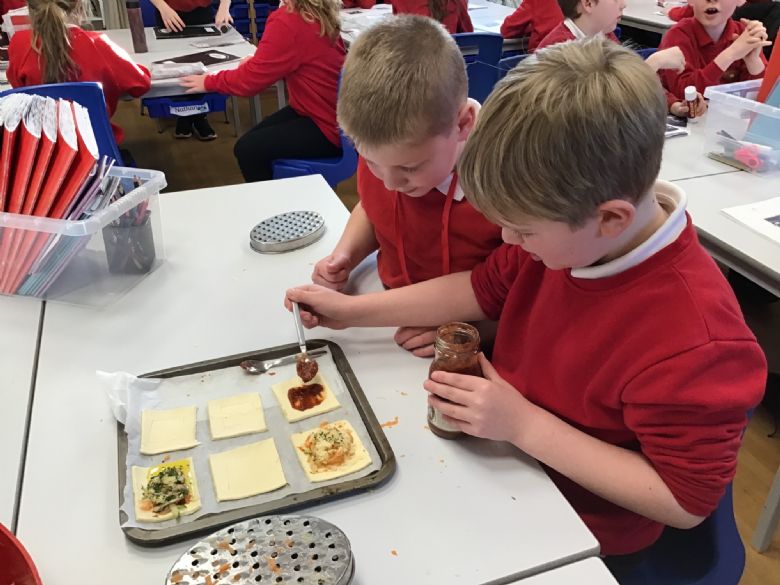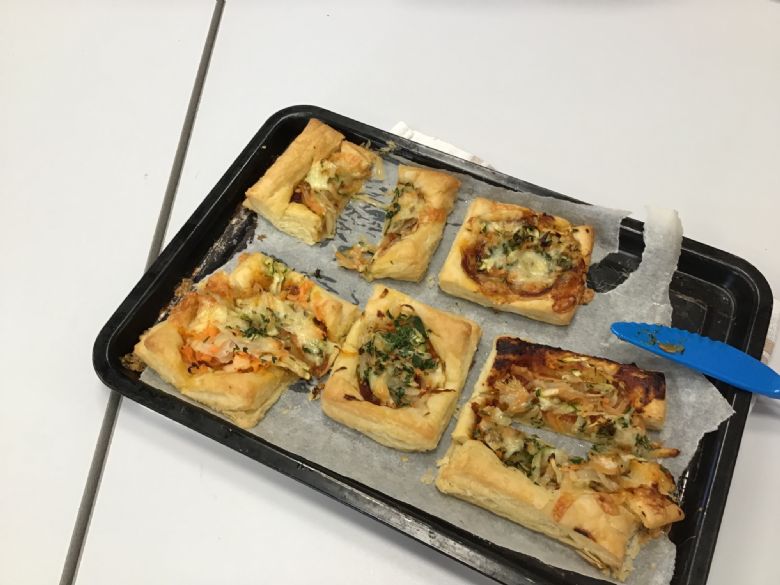 Learning about Sukkot in the Ducklings Class
The children in the Ducklings class have been learning about different festivals and celebrations that different religious groups celebrate. This week we have earned about the Jewish festival of Sukkot. The children earned how Jewish people long ago had to build their own shelter when they had to make a long journey. Jewish people remember this during the festival of Sukkot and build their own temporary shelters known as sukkahs. The children used our den building equipment to work in groups to build their own sukkahs. We sat in them and listened to stories. It was lots of fun!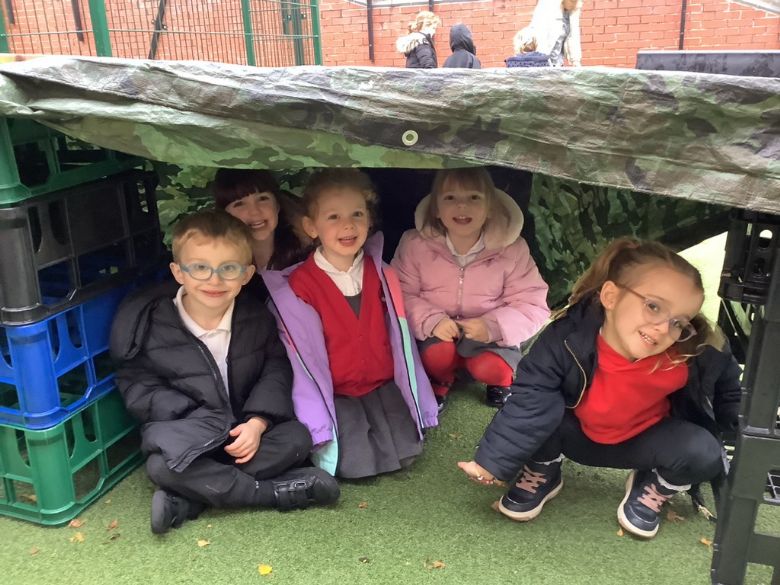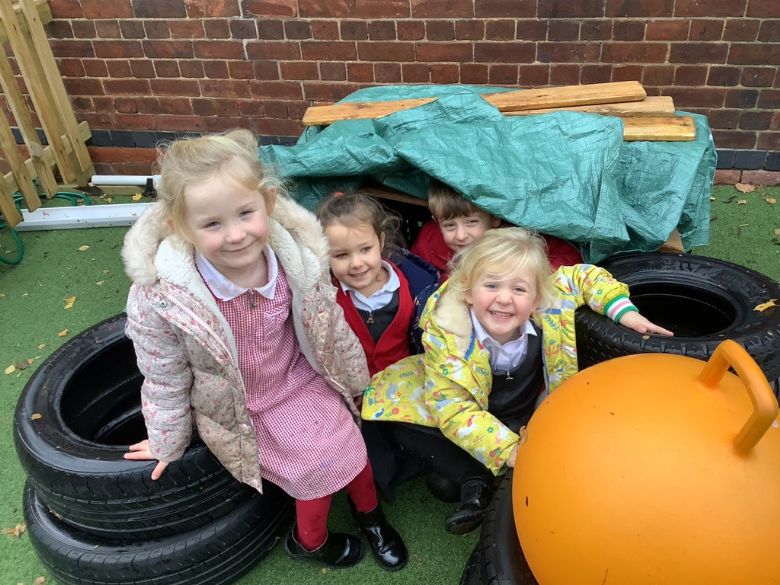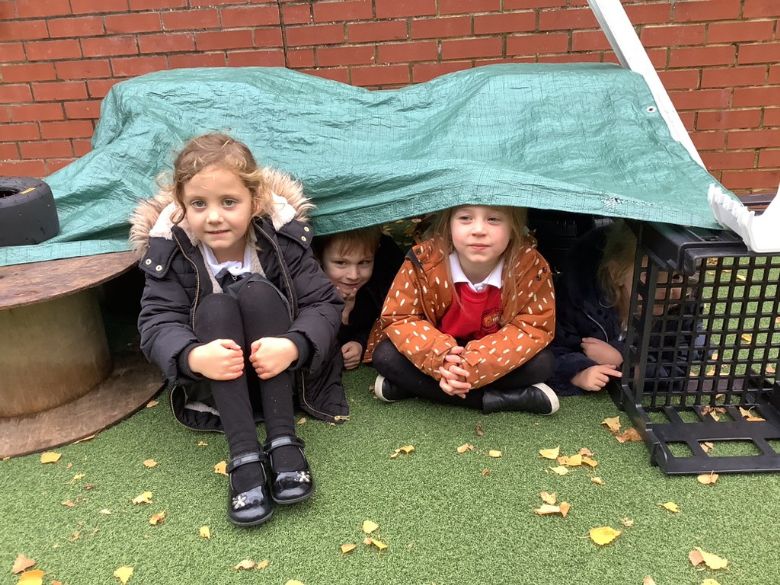 Visit to Derby Cathedral - October 2022
We will be soon be visiting Derby Cathedral to experience what it is like inside a Christian place of worship. We will also have the opportunity to look at artwork by Luke Jerram called Gaia.
Gaia is a touring artwork measuring seven metres in diameter and created from 120dpi detailed NASA imagery of the Earth's surface. The artwork provides the unique opportunity to see our planet on this scale, floating in three-dimensions above the nave of the Cathedral.
You can have a look at the photographs of what we will be seeing by clicking here.
Photographs from our visit
We had a really good time at the Cathedral. Seeing the globe was amazing- it was huge! We also enjoyed learning about different parts of the church and how they are used during Christian worship.
Take a look at what we have been learning:
Peacock Class DT Project – Come Dine with Me – April 2022
Peacock Class worked in groups of 6 to plan and prepare a 3 course menu. Each group made a starter using peppers, a main using salmon and a dessert using pineapple. They tasted and scored the dishes to choose the winning menu! When it was not their turn to cook, the children were busy researching their core ingredients and creating pages for their group recipe book.
KS2 – Blists Hill Victorian Town – May 2022
Key Stage 2 had a great day out at Blists Hill Victorian Town to conclude our history topic. We experienced what life was life through our schoolroom experience and by walking around the town visiting the different Victorian shops and businesses.
Peacock Class DT – Waistcoats – April 2022
In DT, Peacock class designed and made their own waistcoats to conclude our 'Step Back in Time' topic. They used templates to draw around and cut their designs before sewing and finishing off with buttons.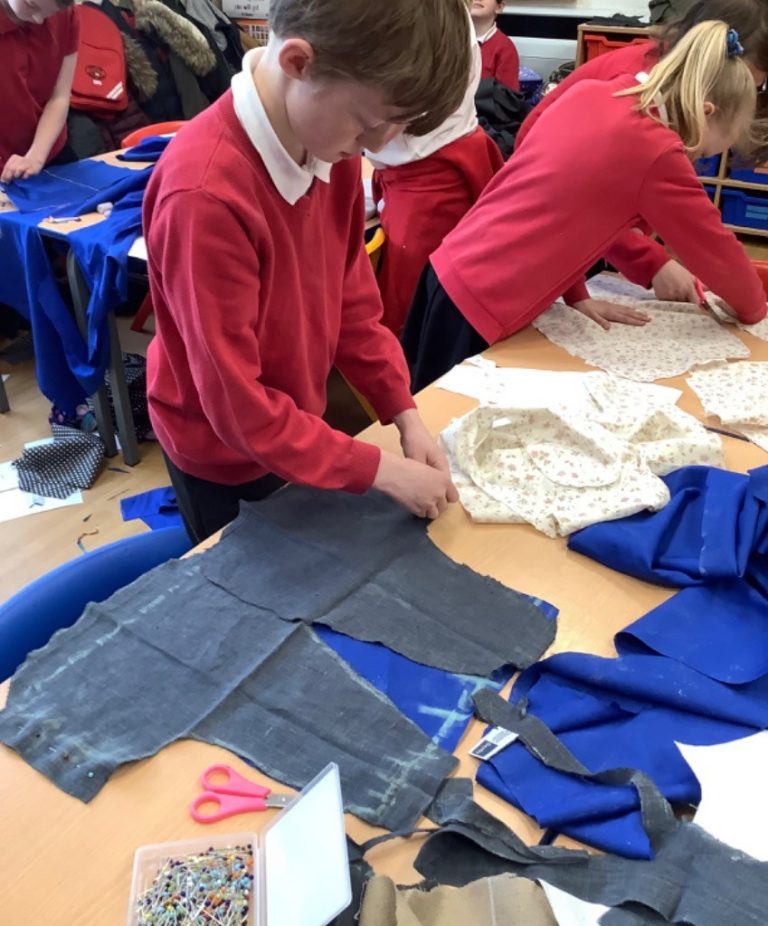 Easter Story – April 2022
In our RE lessons, the children in Owl Class have been learning about how Jesus inspires Christians all over the world. We retold the story in our literacy lessons but before that the children were able to recreate it using freeze frames.
Peacock Class Music POP Task
In music this half term, Peacock Class have been exploring 'advanced rhythms'. We began by learning about the Kodaly method. We then built on this by exploring different clapping rhythms before trying these as a canon. We also incorporated singing alongside body percussion as a canon. Finally, as their POP task, children worked in pairs/small groups to compose, notate, edit, practise and perform their own rhythms using some of the techniques we have explored.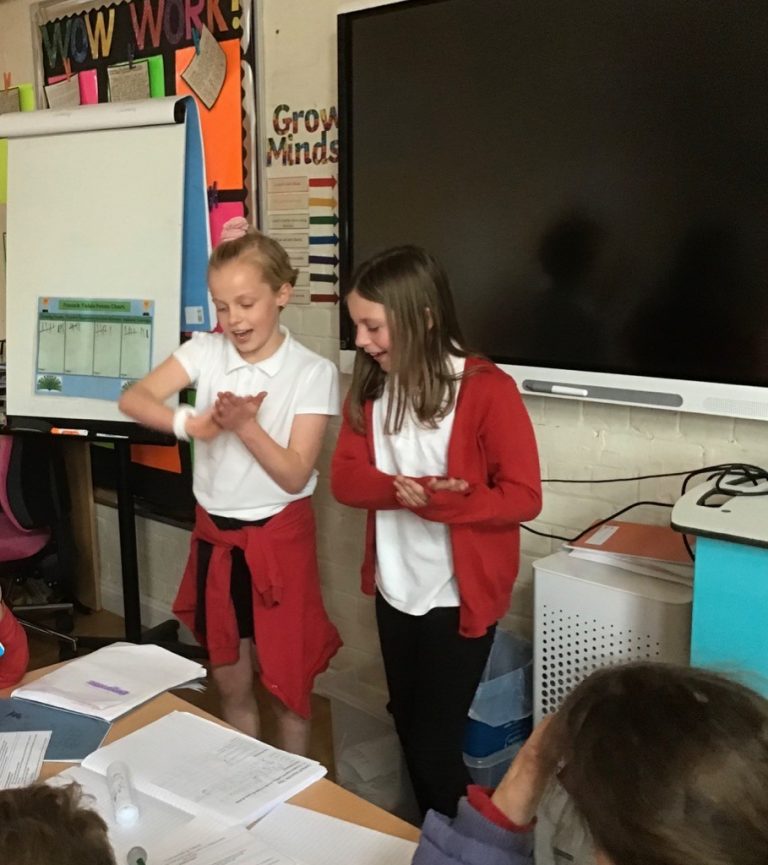 Spring Chicks!
The Ducklings had a lovely afternoon learning about spring, new life and Easter today. We have been so lucky to have seen new life in our classroom and today the children were able to handle our little chicks and see how much they had grown in only 1 week! They were so gentle and caring holding the little chicks. Well done children!
A Step Back in Time….
The children in EYFS and KS1 had a very exciting afternoon when they travelled through time to meet Amelia Earhart. She was a very kind lady and answered all of our questions about what it was like to fly her aircraft. We asked her how she felt when she flew across the Atlantic and if she felt very proud of herself. We also met her navigator Fred Noonan! It was a very exciting afternoon!
The Lunar New Year
We enjoyed learning about the Lunar New Year this week. We read about the story of why people used to be afraid of the new moon and how the emperor decided on the 12 animals in the zodiac. This year is the Year of the Tiger. We researched which animal was chosen for the year when the children and staff were born. The children painted a picture of their animal and we decided whether we thought we were like our animals or not. Learning about the animals linked in with our Makaton animal topic too!
Our Reception children have been learning about past and present transportation.
They enjoyed building their own cars after looking at a timeline of photographs showing the earliest cars through to present day.
Our Key stage 1 children have been learning all about transport through time, and how forms of transport have evolved. They have recently made a fact file on Carl Benz, the inventor of the first ever petrol car. In Design and Technology, the children have been making their very own windmills! They have been learning about different parts of a windmill, and how they are used.
In RE our KS1 children have been learning about parables that Jesus told and discussing the meaning in the story. We listened to the story of The Lost Sheep and then the children used pictures to help them retell the story to each other.
The Passover Story
During our RE topic this term, the Owl's question has been "Why are festivals important to religious communities?" This week we looked at why Jews celebrate Pesach every year and acted out The Passover Story. During this, we had a debate where Moses had to listen to ideas from the Israelites and the Egyptians on whether he should free the slaves.
Our KS2 children have been learning about the Victorians.
To begin our topic, the children worked in mixed year groups and chose their own areas to research. They were tasked to design a poster and present their findings to the class.
In RE, Year 3/4 have been learning about different celebrations/festivals celebrated around the world.
Here are the children creating their own "Ramadan Kindness Calendars."
Our Year 5/6 children have been learning about monarchs from 1066 to present as well as learning about life for children during Victorian times. In geography, we are recapping our geographical knowledge of continents, oceans, countries and cities as well as practising map skills.
'Step Back in Time' Art Work – January 2022
Peacock Class created their own portraits inspired by Victorian silhouette portraiture. Can you work out who is who?
Geography POP task – January 2022
Before beginning our geography work this term, we completed a 'kahoot' quiz to assess prior knowledge of continents and oceans. We then recapped the continents and oceans along with some of their features before completing a short paired activity labelling and illustrating blank maps. Finally, we completed the 'kahoot' quiz again achieving much higher scores!