SEND Information
Provision for those children with special educational needs and disabilities (SEND) is a strength of our school. Children are fully included in all aspects of school life and are very well supported by teaching and support staff. This was noted in our recent OFSTED report published in November 2022.
"Pupils with special educational needs and/or disabilities (SEND) are well supported to succeed in school. Staff make effective use of resources to identify these pupils' needs quickly and provide them with suitable support. Pupils with SEND receive the extra help they need so that they can learn the same curriculum as their peers."
During different times in a child's school life, they may have a special educational need or require provision that is additional to or different from the usual Quality First Teaching that is in place for all our children.
At Street Lane primary School, all teachers are teachers of children with SEND. Working within the Graduated Approach to SEND provision, all staff work to ensure that all children make progress and receive personalised support. The Graduated Approach is developed through cycles of asses, Plan, Do and Review (APDR). The cycles of APDR provide personalised targets and are outlined on our Individual Education Plans (IEPs). These plans allow us to carefully monitor and assess the impact of provision, identify the outcomes of the provision and plan new targets to ensure progress is being achieved. Teachers review and discuss these plans 3 times per year in conjunction with the child, their parents and the school SENDCo.
On this page you will find statutory policies and additional information about SEND. Please contact our SENDCo, Chloe Curtis, for further information.
Zones of Regulation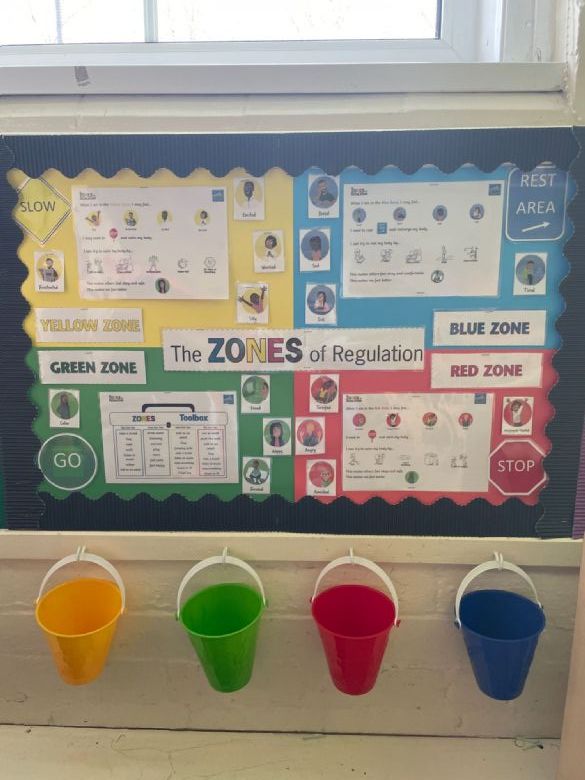 Self-regulation is something everyone continually works on, whether we are aware of it or not. We all encounter trying circumstances that test our limits from time to time. If we are able to recognise when we are becoming less regulated, we are able to do something about it to feel better and get ourselves to a better place. This comes naturally for some, but for others it is a skill that needs to be taught and practised. This is the goal of The Zones of Regulation (or Zones for short). We have implemented The Zones of Regulation across school as part of our quality first teaching, to help all of our children manage their emotions and learn how to access strategies to help them to self-regulate. For our children who have support plans or require further help with their social, emotional and mental health needs, the Zones is a good program to help provide more targeted support.
If you require further information about the Zones please download our school policy on the Zones of Regulation from the link below. You will also find some resources that you can download if you decide to create some zones at home.
To find out more information about The Zones of Regulation please click on the link below.
The Zones of Regulation- written by Leah Kuypers
Autism Advocates Training Programme
We are delighted to have been accepted to work alongside the Derbyshire Autism Outreach Team and the Autism Education Trust taking part in the Autism Advocates training programme.
The intent for this programme is
To create a skilled and confident workforce;
To improve inclusion and quality of life;
Access to high quality settings;
To improve long term outcomes.
Our SENDCo is due to begin the training in March 2023 to become an 'Autism Advocate' and all staff will receive the training during the Summer term of 2023.
For more information on the training programme please use the link below:
SEN Policy and SEND Information Report 2022-2023
These documents can be downloaded by clicking on the links at the bottom of this page.
Useful Links for Parents