Ducklings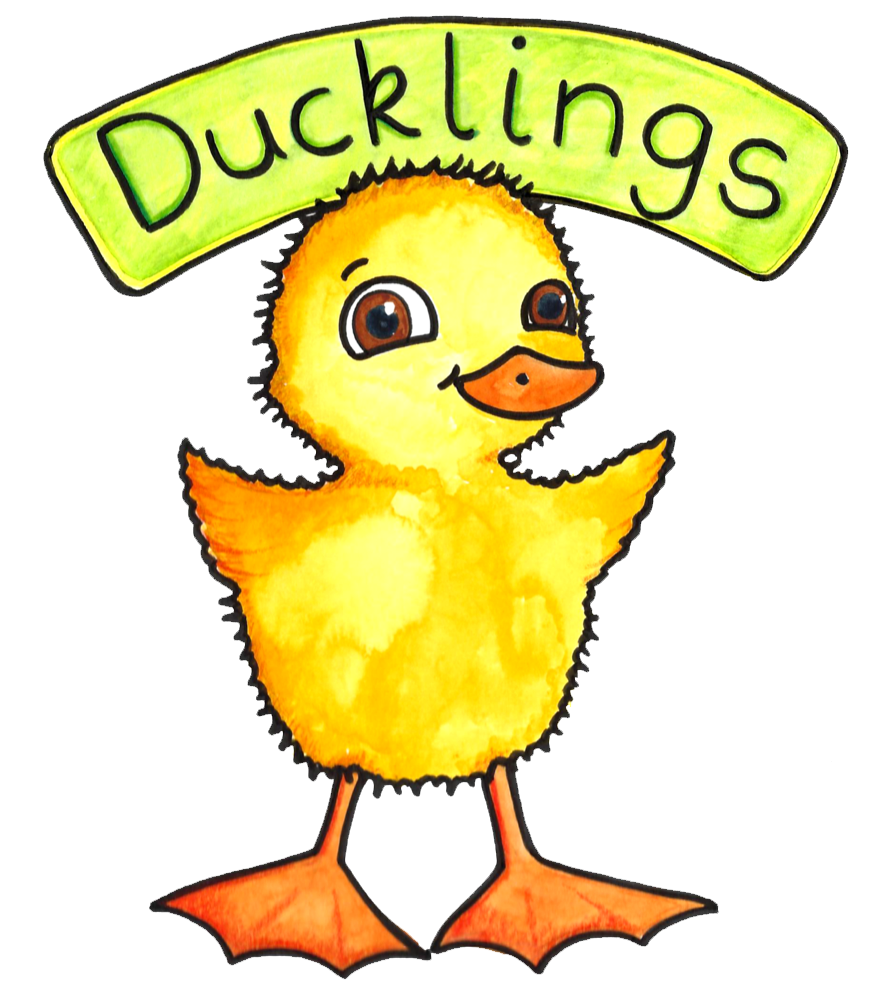 Our Ducklings (EYFS) are taught by Mrs Curtis and Mrs Dixon, our deputy headteachers. Mrs Curtis teaches on a Monday, Tuesday and Wednesday mornings and Mrs Dixon teaches on a Wednesday afternoon, Thursday and Fridays. Miss Matich will occasionally teach the Ducklings class when Mrs Curtis or Mrs Dixon are out of class. Mrs Walker is the Ducklings teaching assistant in the mornings and Mrs Truman is the Ducklings teaching assistant in the afternoons.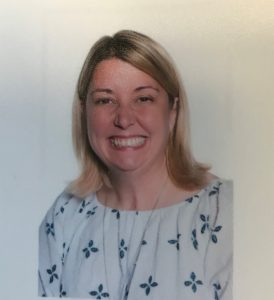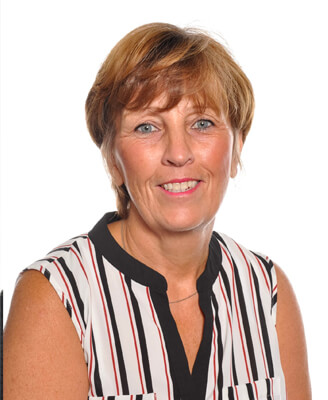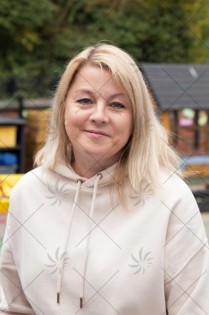 If you need to contact your child's class teacher, you can do this via Tapestry or via the class email address ducklingparents@streetlaneprimary.org
Our youngest children enjoy a wide range of continuous provision activities to enable them to complete the majority of their learning through play. The children have daily access to both the indoor and outdoor learning environments and are encouraged to engage in a combination of independent learning, adult led play activities and focused teaching activities.
Our Ducklings have a daily Phonics, Maths, Funky Fingers and story time session which are taught in addition to carefully planned play activities to encourage development across all seven areas of learning.
This year our unit headings have been chosen carefully based on what we will think will be of interest to the children, inspire our children to have a love of learning and nurture their curiosity about the world.
Fun at the Park!
We have started going to visit the park on a Friday afternoon with Mrs Dixon, Mrs Trueman and Mrs West. We have been practising our gross motor skills and working on our physical development. It has been great fun to explore this new learning environment and we have enjoyed rolling down the muddy hills in our puddle suits and using our bodies to make mud and snow angels!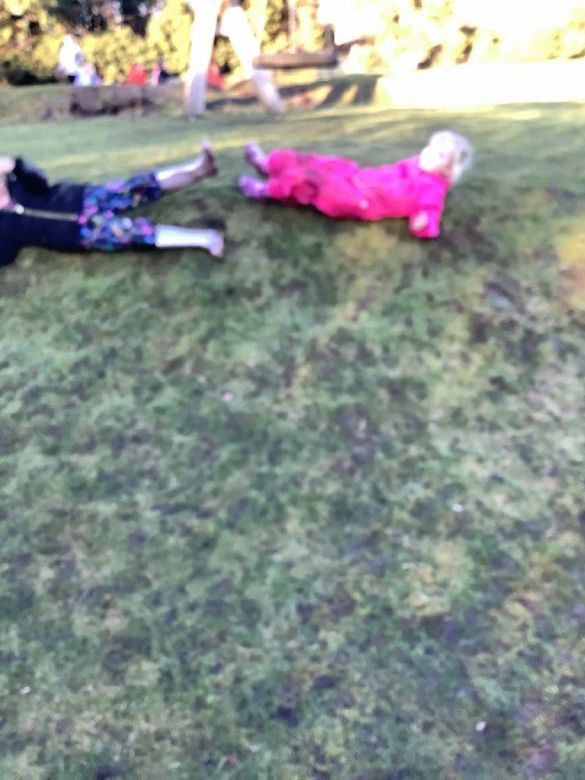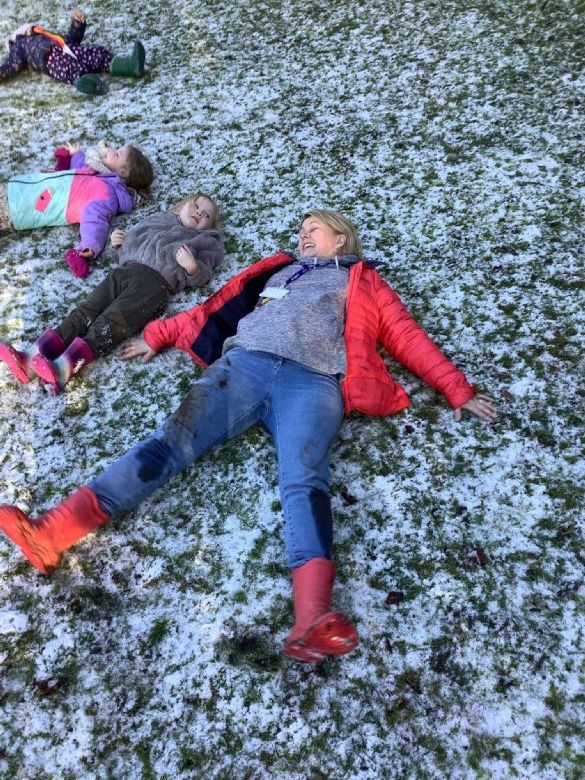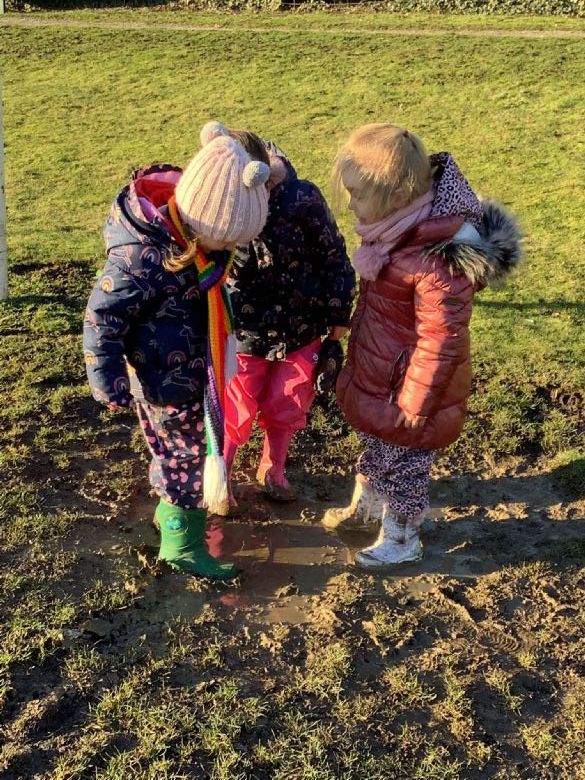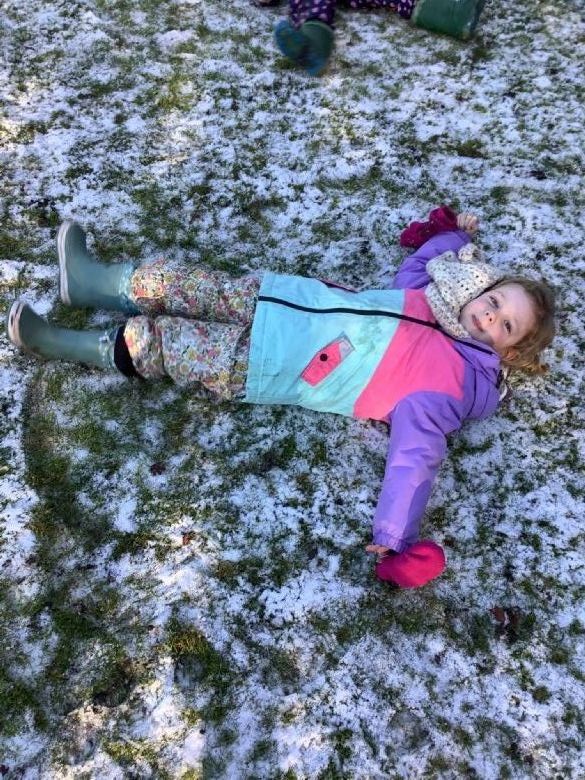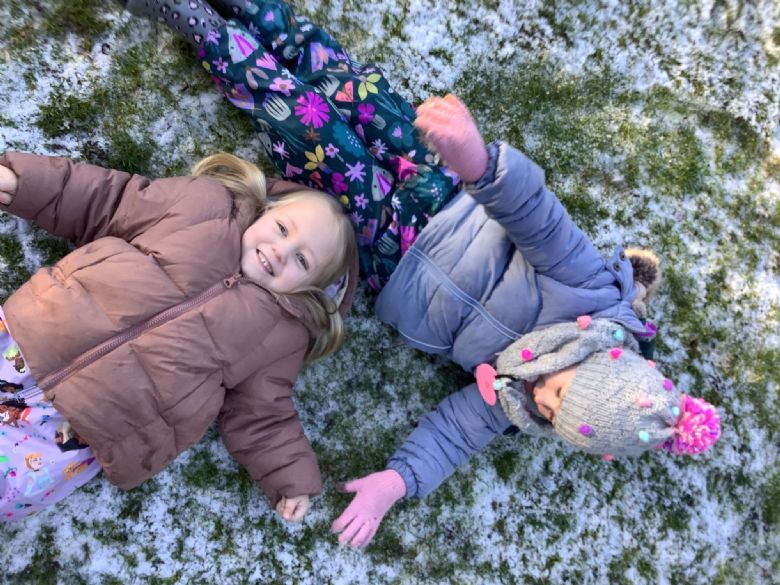 We have practised using the hoops to throw, catch and move our bodies through. We played a fun game where we had to pass the hoop all the way around the circle without letting go of our friends hands - it was really tricky and we had to concentrate really hard!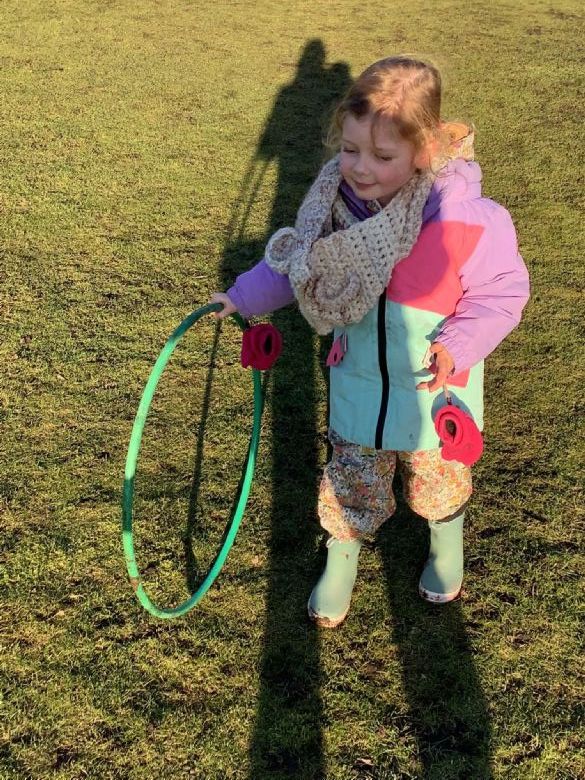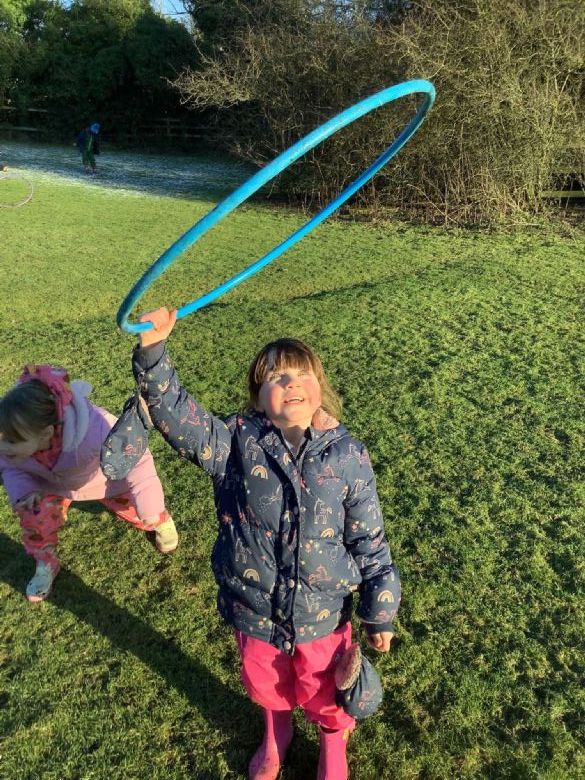 This week we enjoyed using natural 'face paints' (mud!) We have been reading the story "Monkey Puzzle" by Julia Donaldson as part of our literacy work and thinking about different jungle animals. We used the mud to camouflage ourselves into terrifying tigers!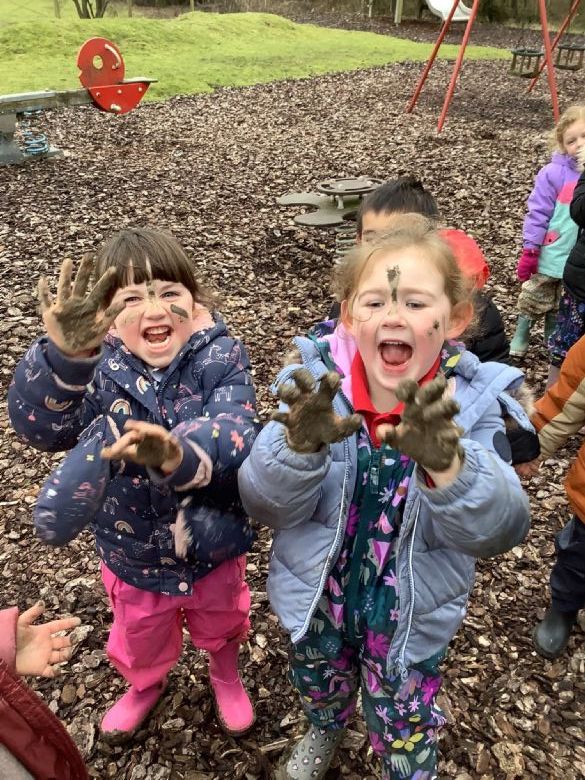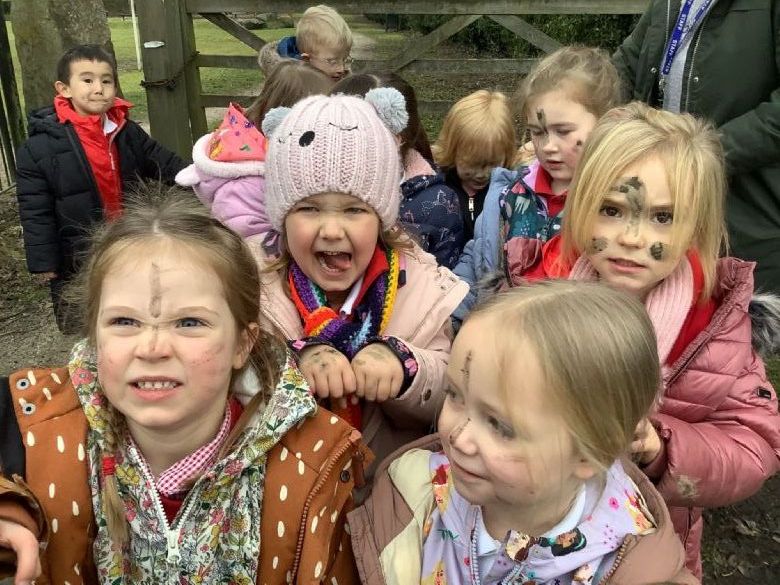 The Rainbow Fish
Our focus book for week 2 this term was The Rainbow Fish.In understanding of the World we talked about the oceans of the world and the animals that live in them. In our Ready to Write sessions we labelled different animals with their initial sounds and for some animals like crab and fish the children could write all of the sounds. On our creative table the children used their Funky Fingers to cut our a tale for their fish from a paper plate, paint the plate and then folded small circles into semi-circles to create the scales. Our classroom is now full of beautiful rainbow fish!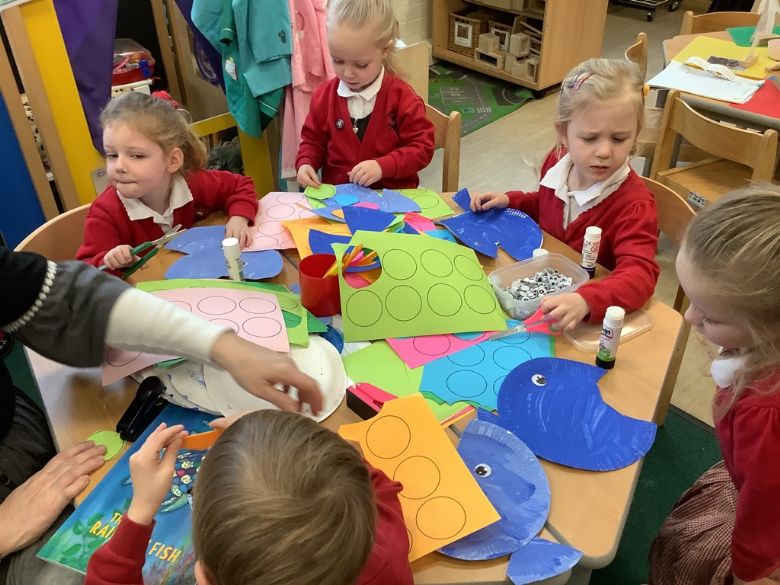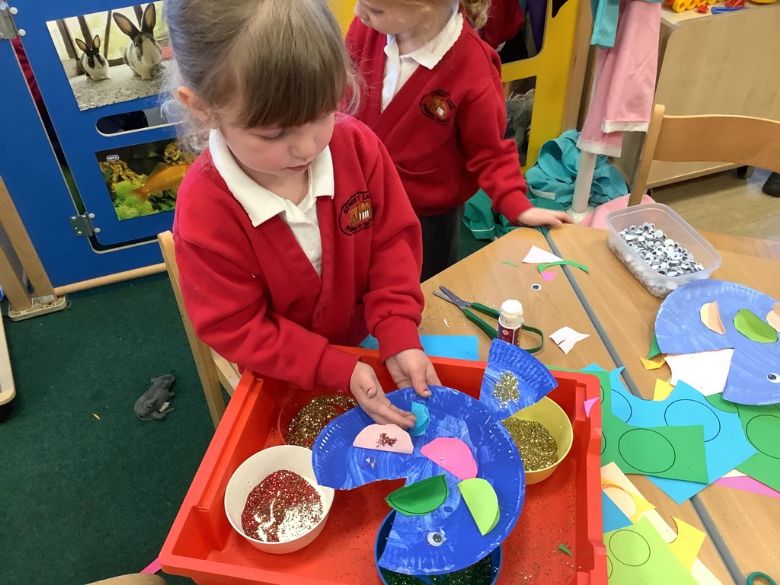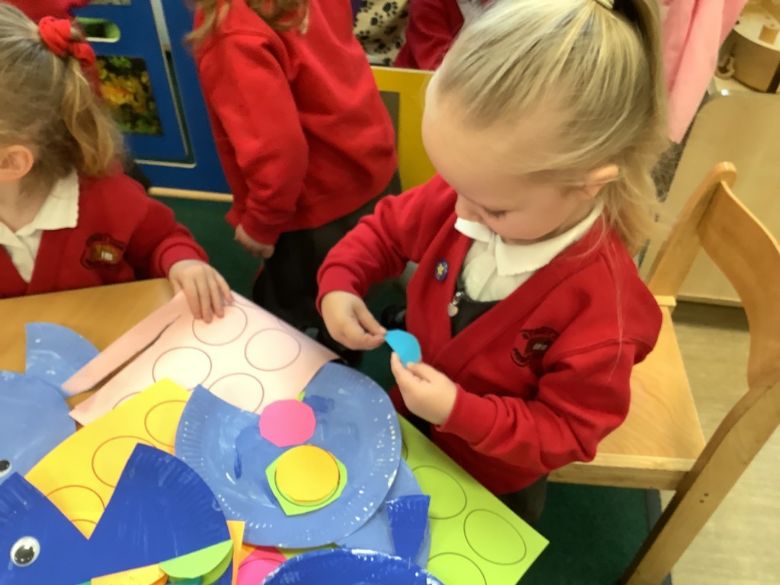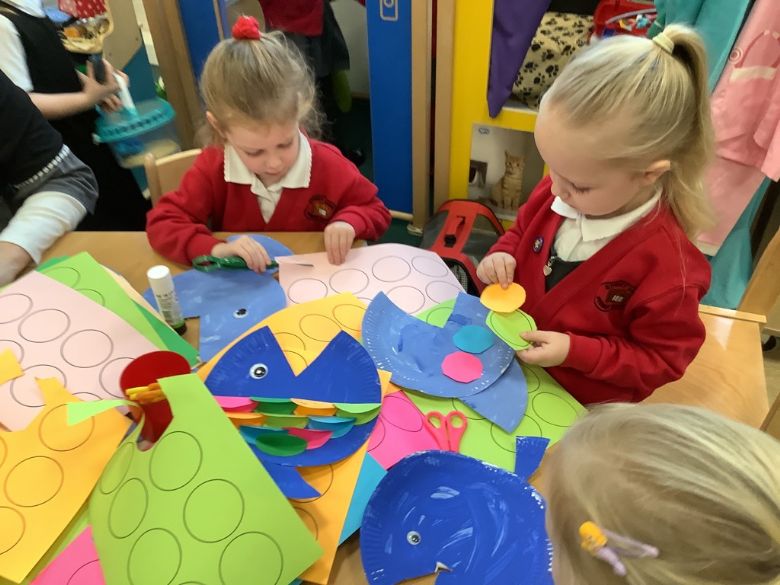 Fun with Phonics
The children are all making great progress with their reading and writing, and we are so proud of them! This week we used the large foam letters to make CVC words. The children shouted our each sound and then together said the full word. Then when a fourth child wanted to play they added an s to make the words plural. Fantastic work ducklings!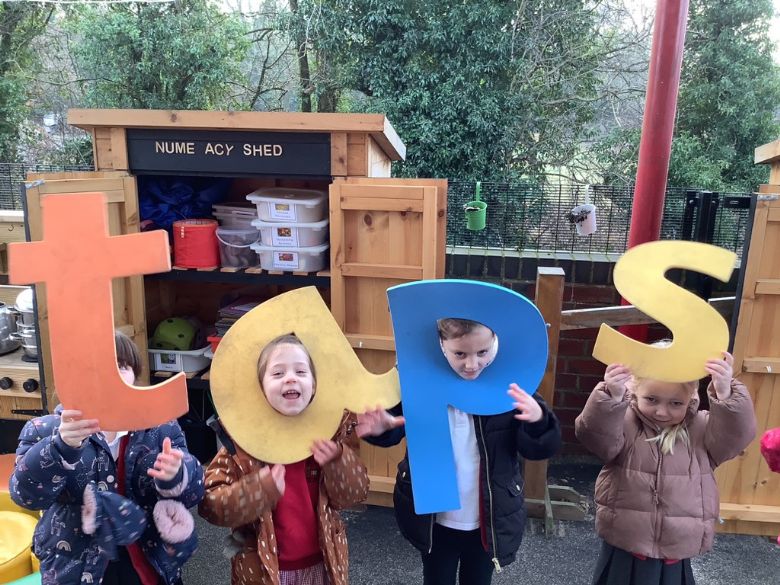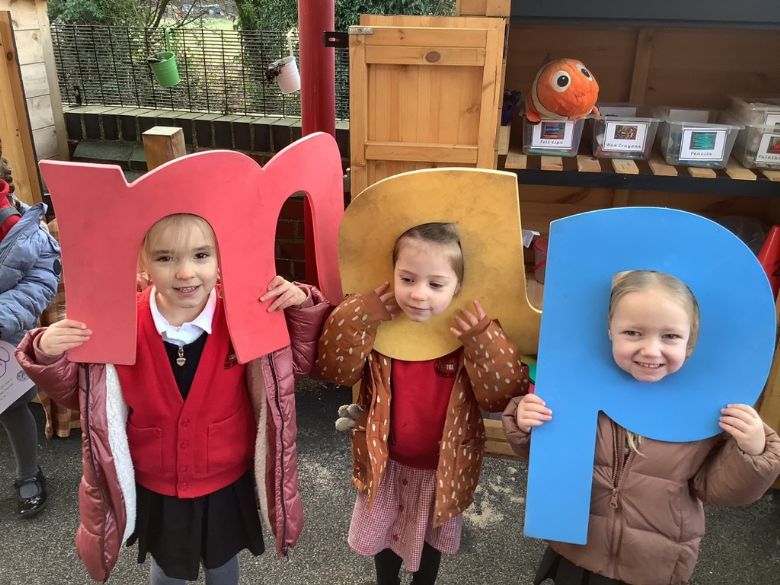 Our learning
Click here to take a look at what Duckling class are learning in our Fire and Ice topic in Spring term 1.
Spring Term One 2023
Christmas Fun!
Christmas has arrived in the Ducklings Classroom. During Advent, we will be spending lots of time playing in our Santa's Grotto, creating stories with the small world Christmas characters and reading Christmas stories. We are going to be learning a new Christmas Makaton action every day and of course practising very hard for our Nativity play!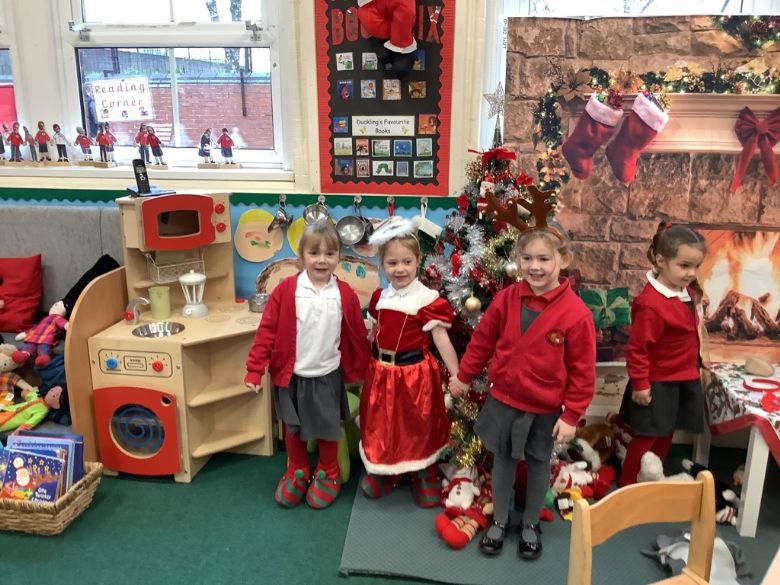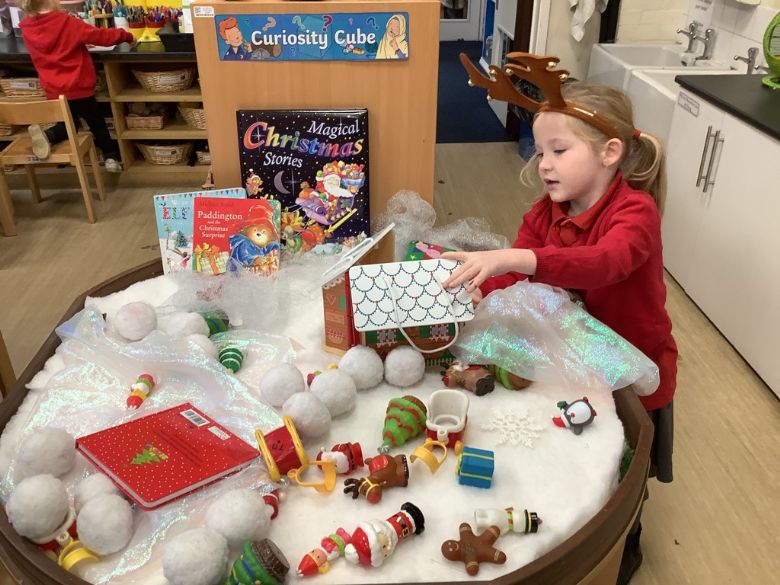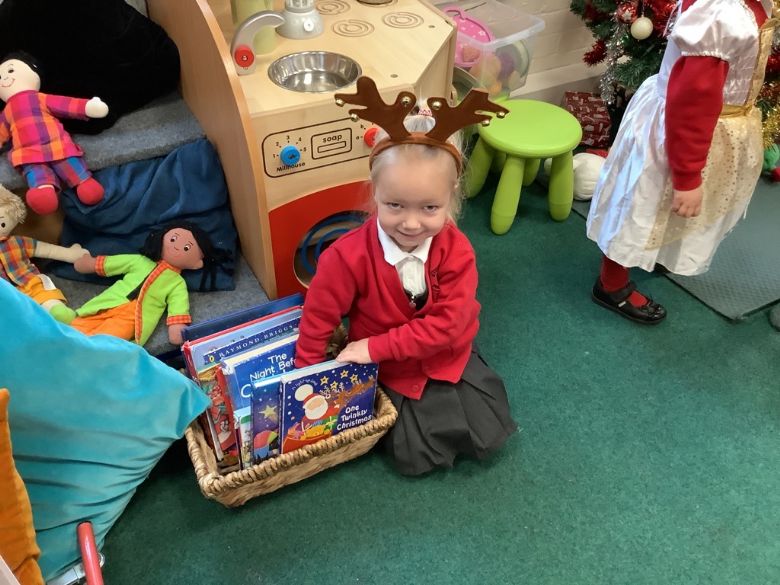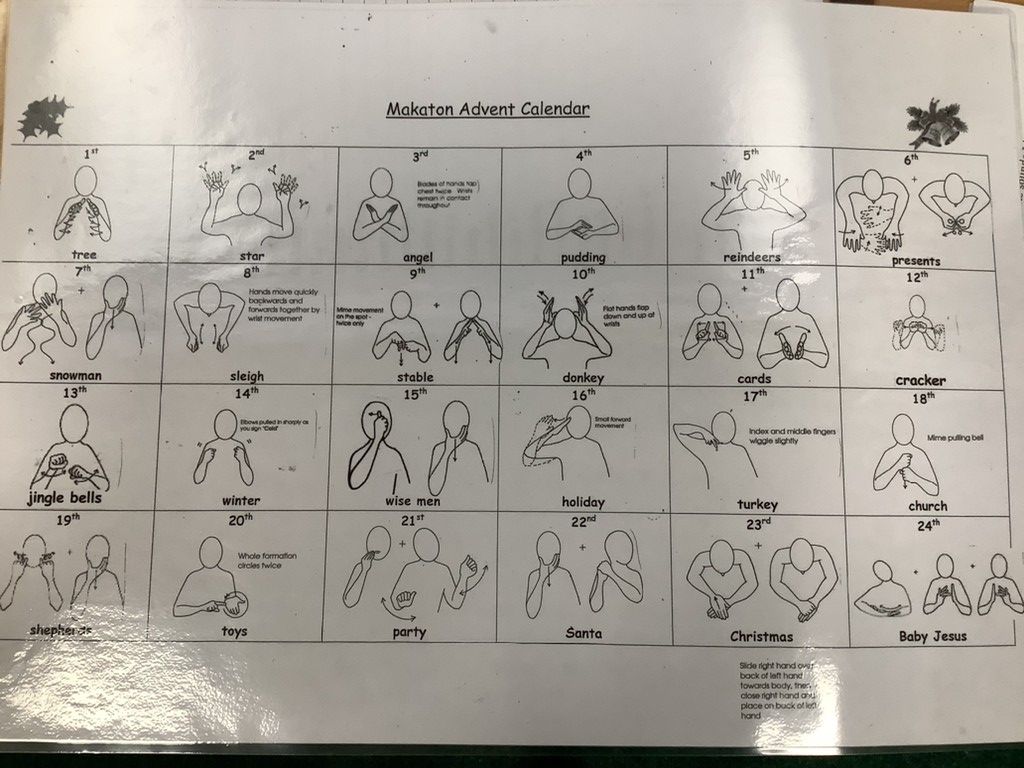 Odd Socks Day 2022
Odd Socks Day was great fun! We came to school wearing odd socks to show how we are all unique and to celebrate our differences. This was the beginning of our theme week for Anti-Bullying Week, and we shared assemblies, stories and completed lots of activities in class to think about ways in which we promote our school values of kindness and respect. At the end of the week we celebrated Friendship Friday and make an Elmer elephant from different coloured handprints for our display in the school office.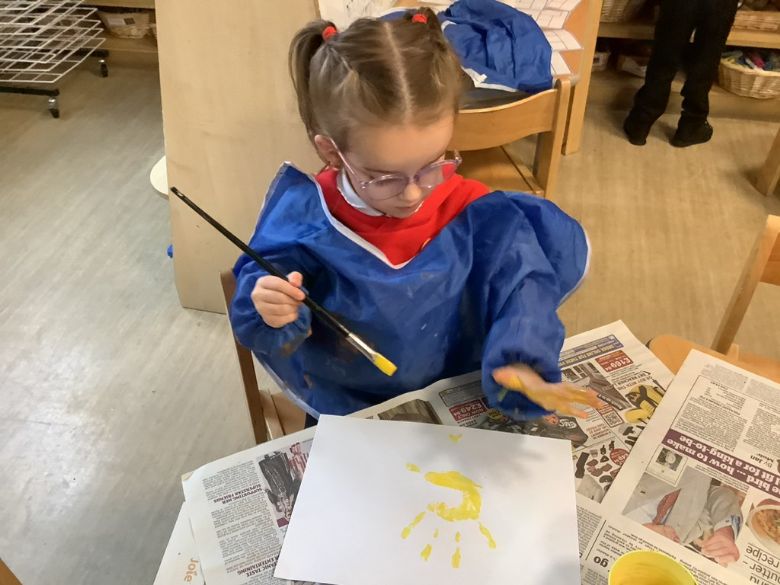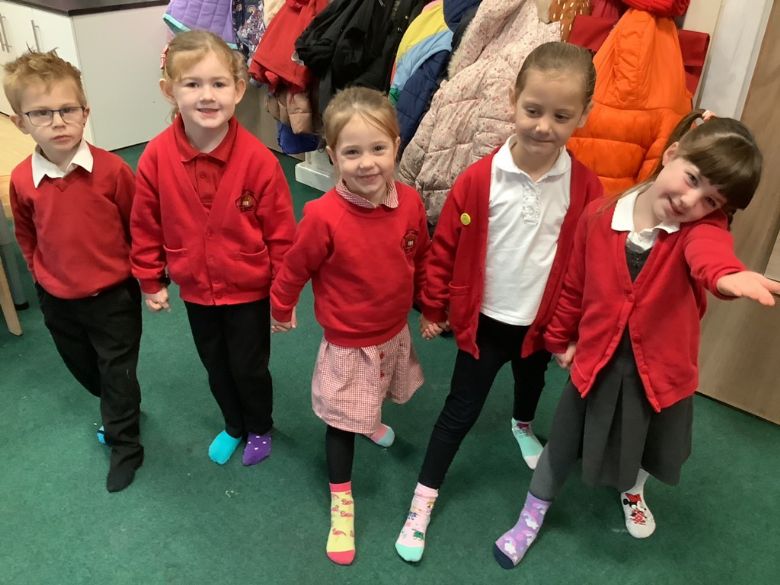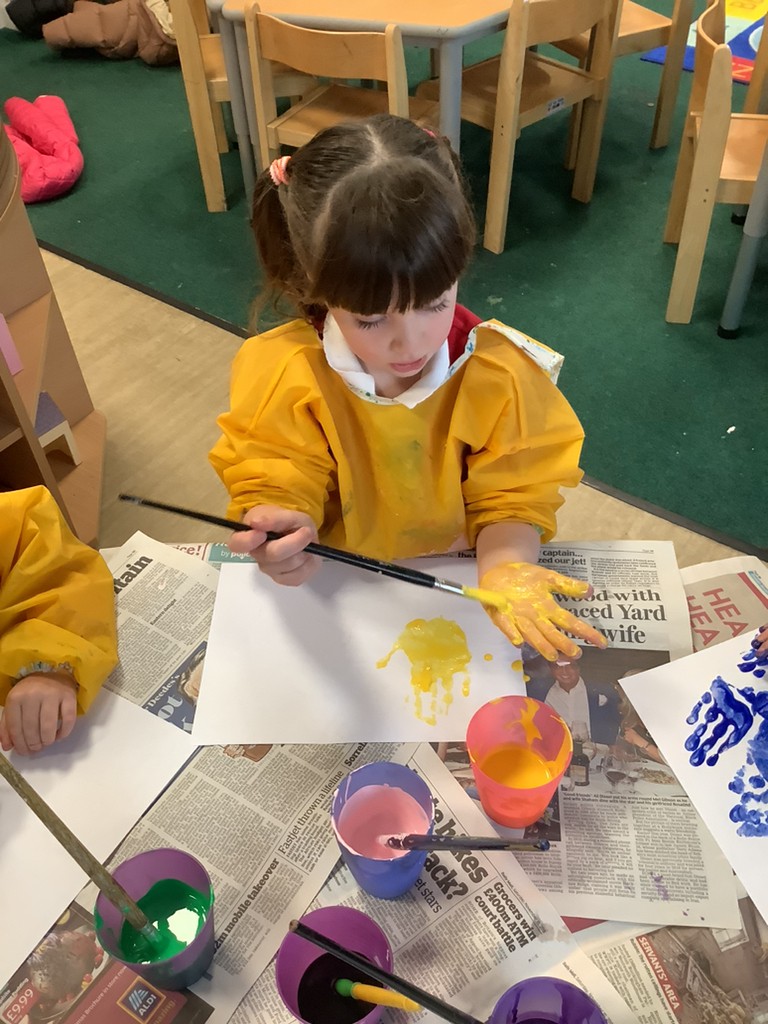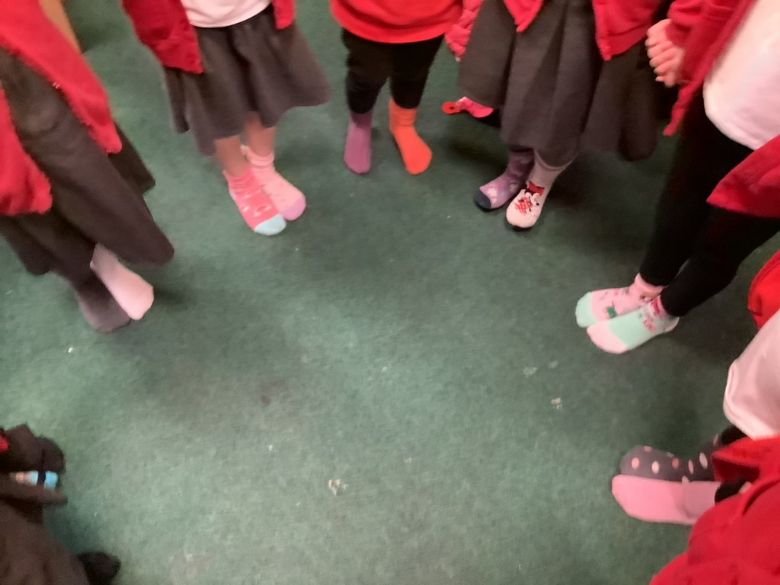 Please click here to view our plans for this term's learning.
Autumn Term Two 2022
Halloween!
We have had a wonderful day today. The children loved being able to show their grown-ups the classroom this morning and we have had fun with spooky activities all day! The pumpkins were all amazing and many of these are still on display in the playground. The children all looked fantastic in their outfits and we all enjoyed the disco! I'm sure we have many very tired children tonight! Thank you to all parents and carers for supporting us today!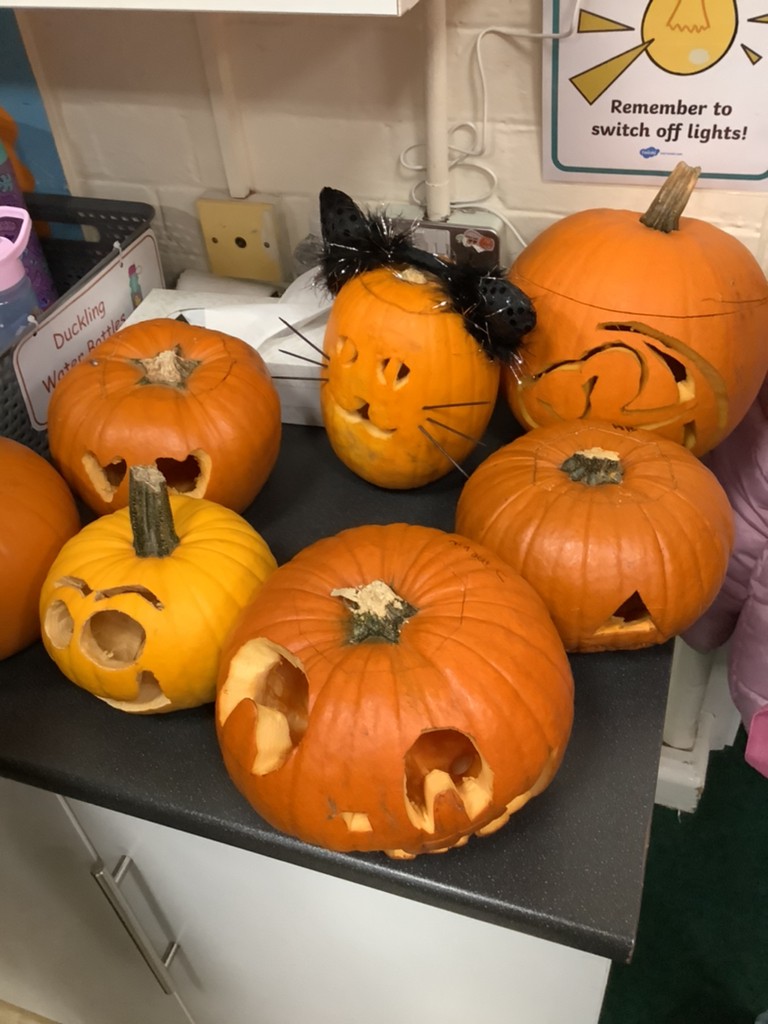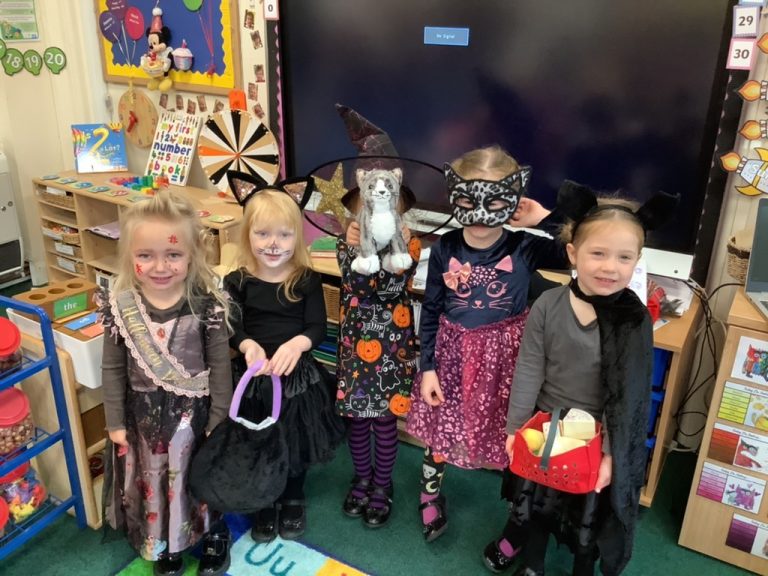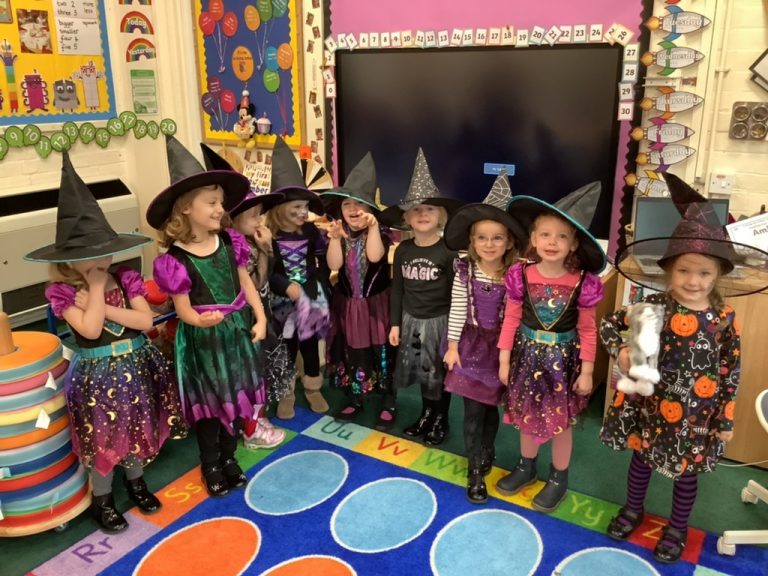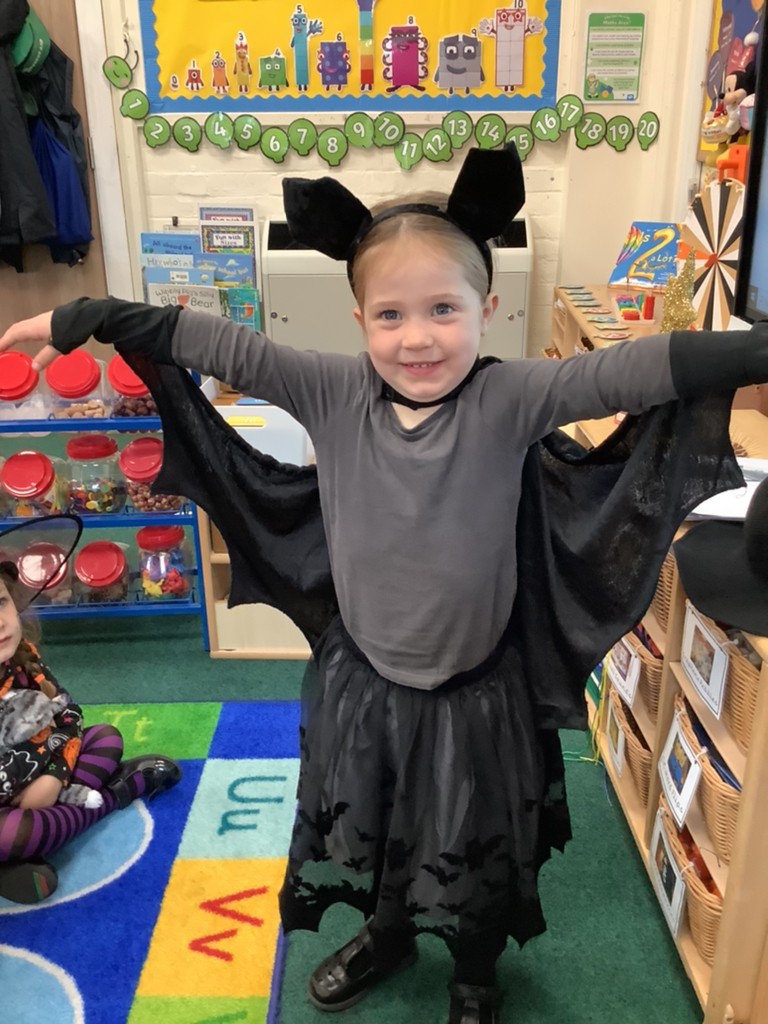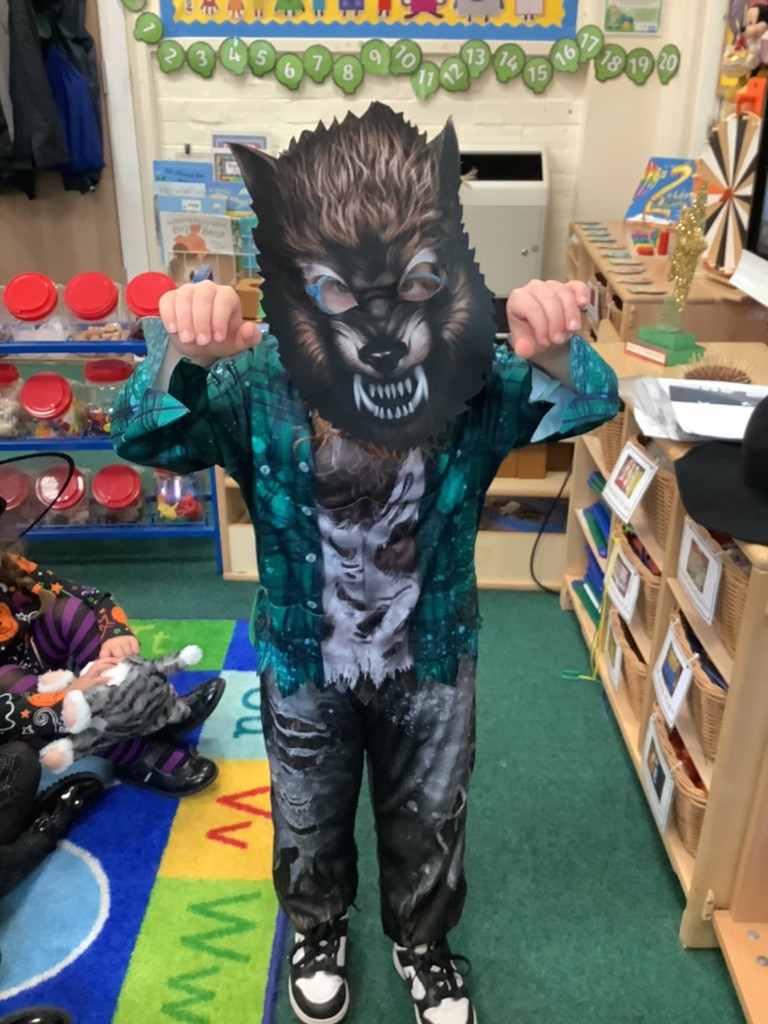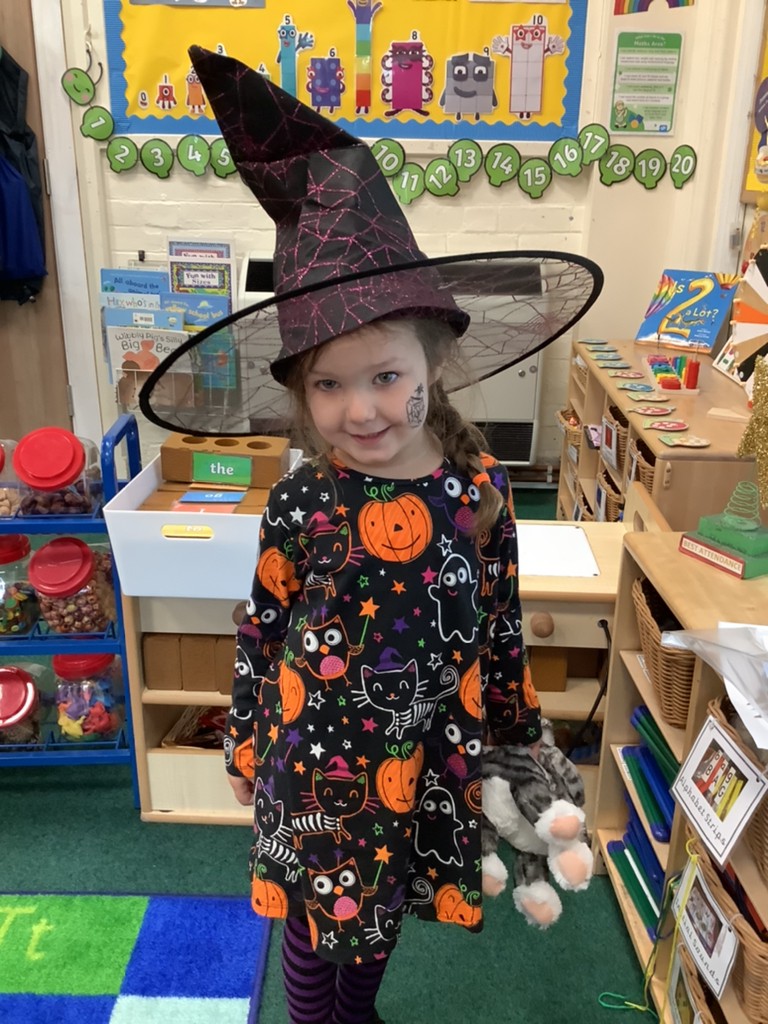 Fruit Kebabs
We have enjoyed learning a song about the colours of the rainbow this term and learning how to sign the colours using Makaton actions.
For our cookery project this term we thought about different coloured fruits and created a rainbow fruit kebab using strawberries (red), satsuma (orange), banana (yellow), kiwi (green), blueberries (blue), grapes (indigo), watermelon (violet).
We practised the skills of washing, peeling, chopping to prepare the fruits for our kebabs.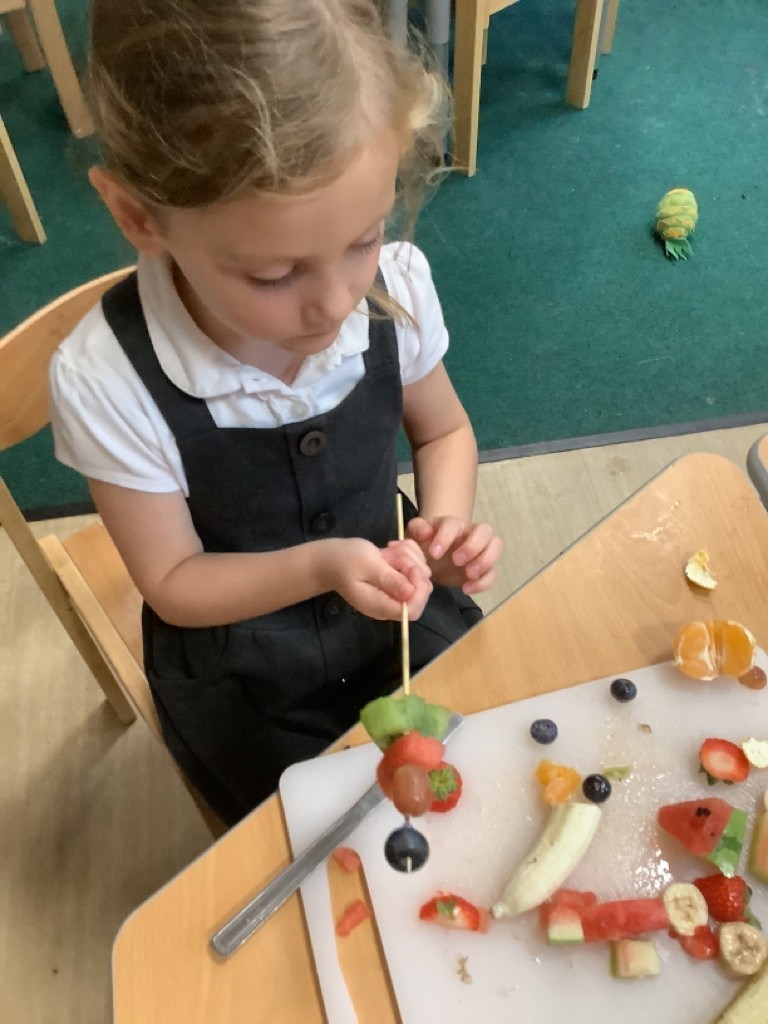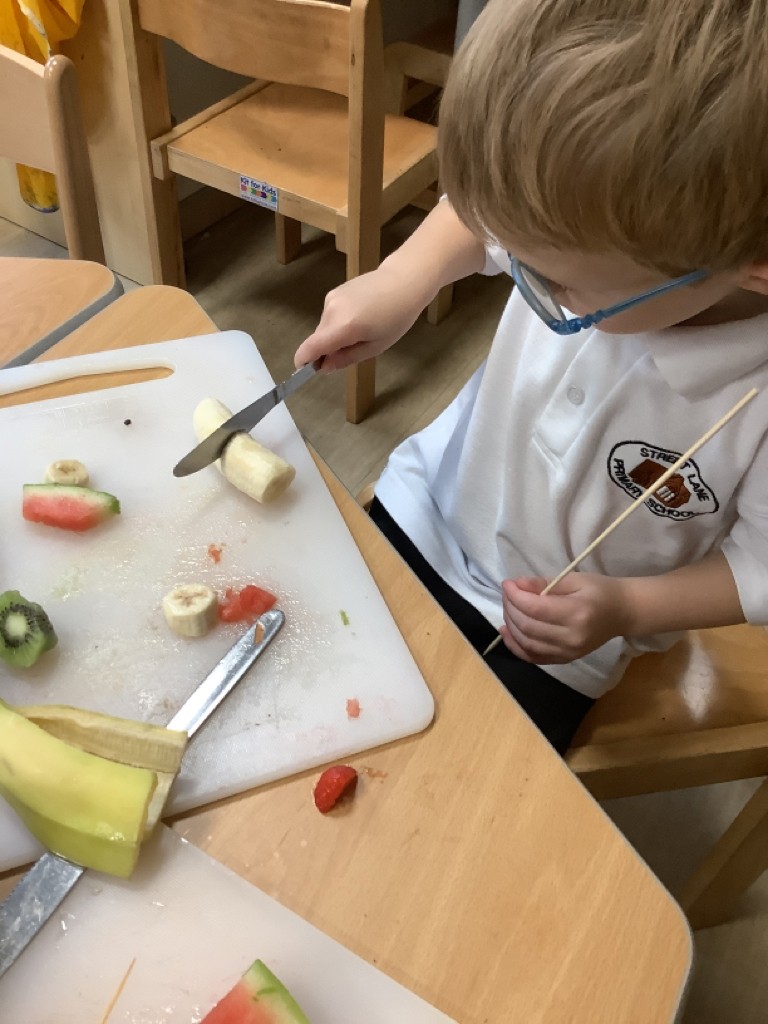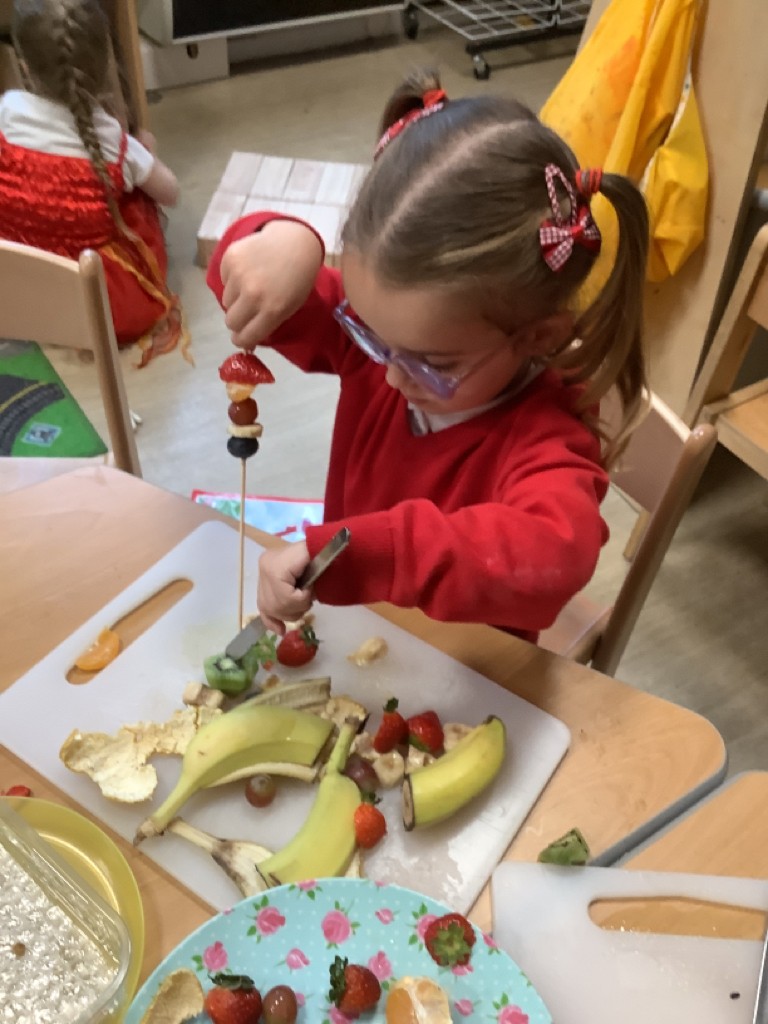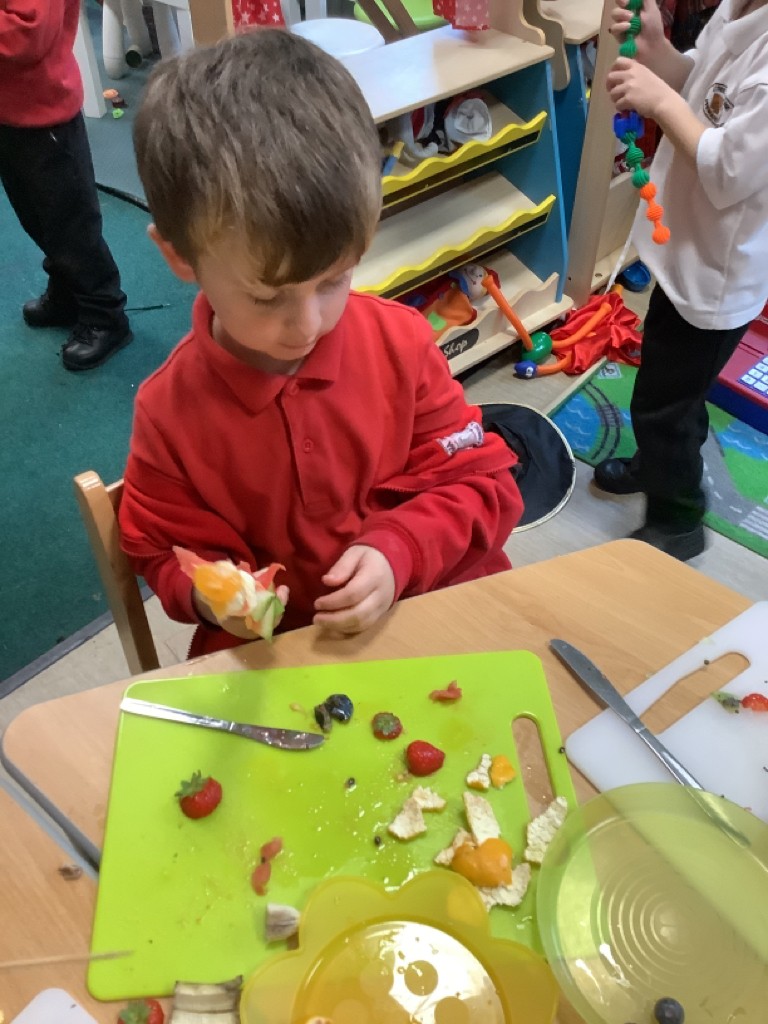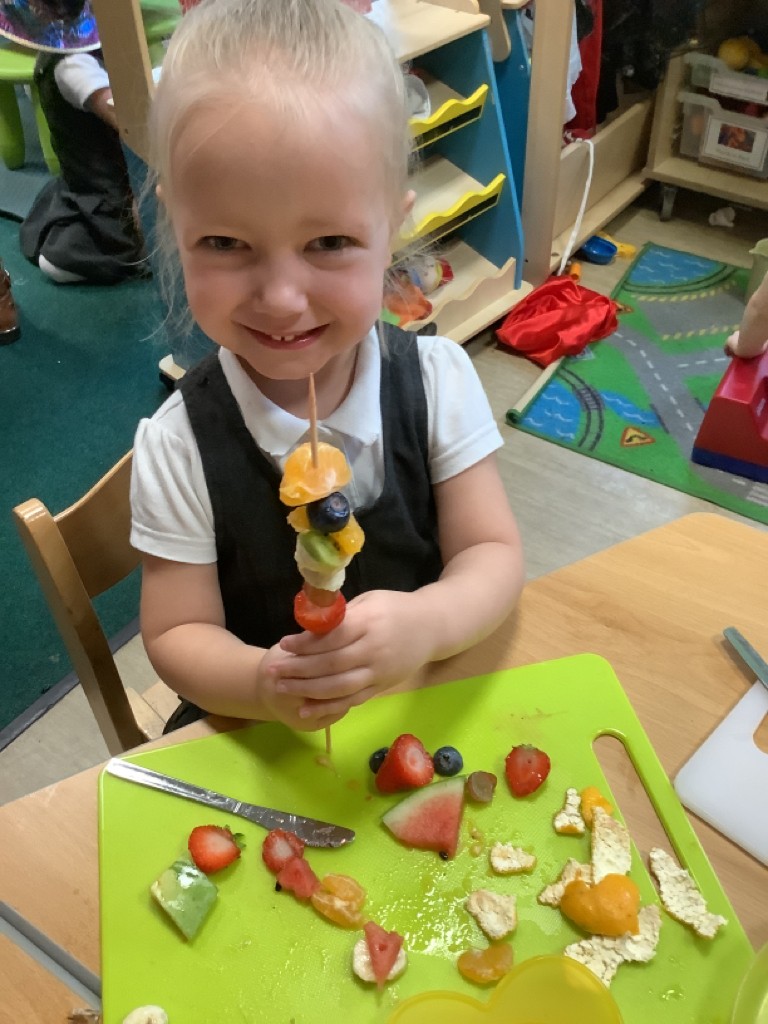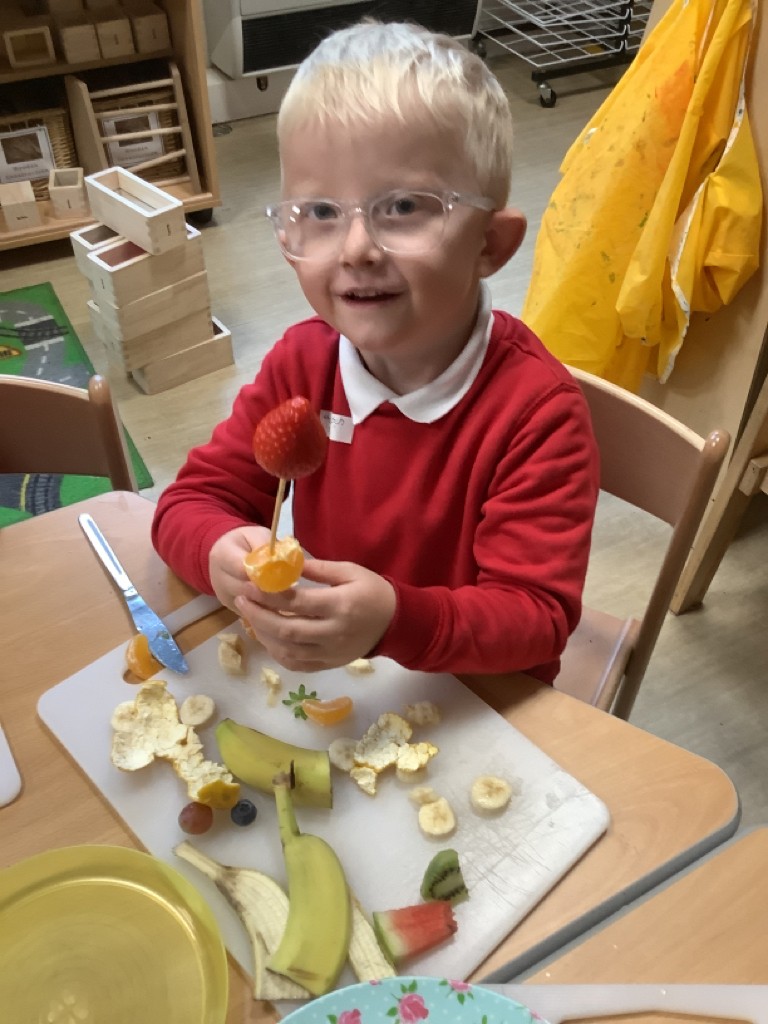 Popping Phonics!
All of our Ducklings are making super progress with their phonics. We had fun playing some games on our interactive board listening to the phoneme and choosing the correct grapheme to represent the phoneme! Well done!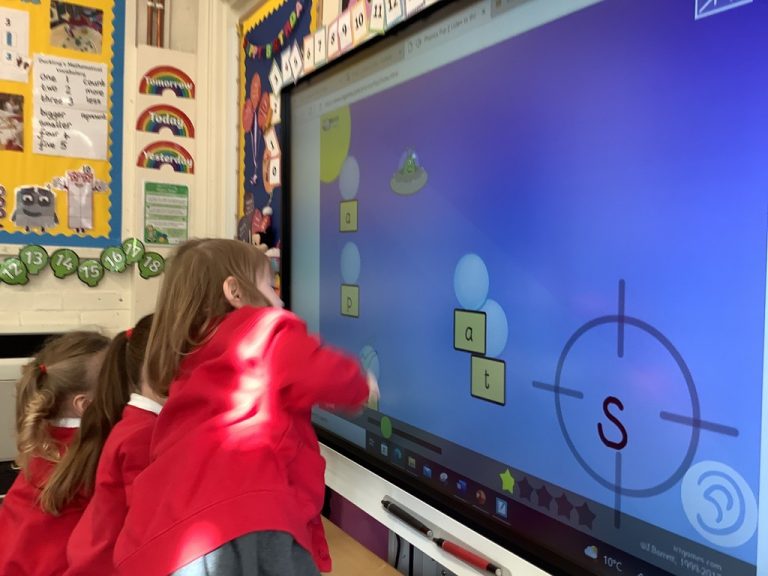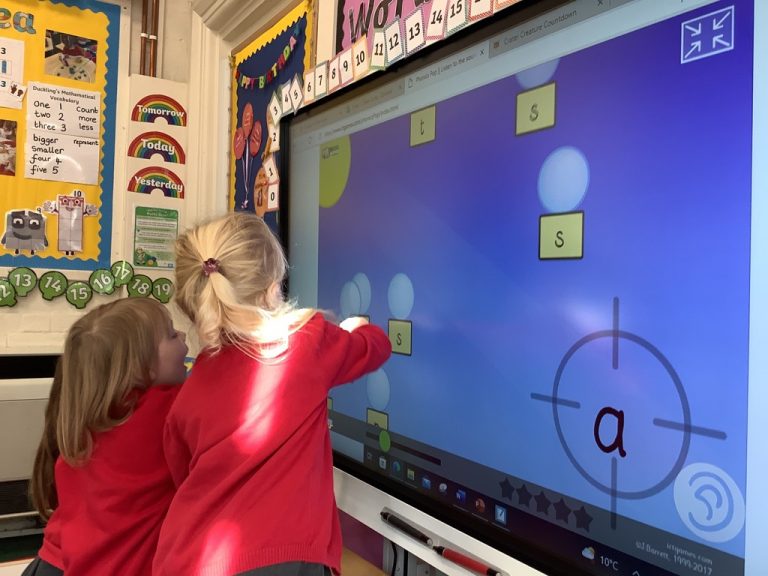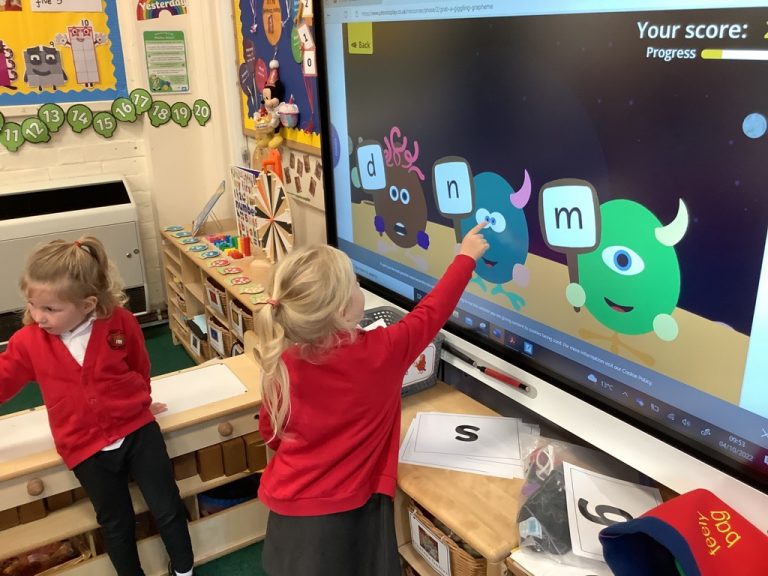 The Colour Monster
During the first two weeks of school our focus books were 'The Colour Monster' and 'The Colou Monster Goes to School.' by Anna Llenas. We talked about how we were feeling and learned some Makaton actions to show that we were feeling happy, angry, excited or sad. We sang our song of the week 'If You're Happy and You know it' and that made everyone feel happy. We also collaged some colour monsters to show how he was feeling in the story. Well done Ducklings!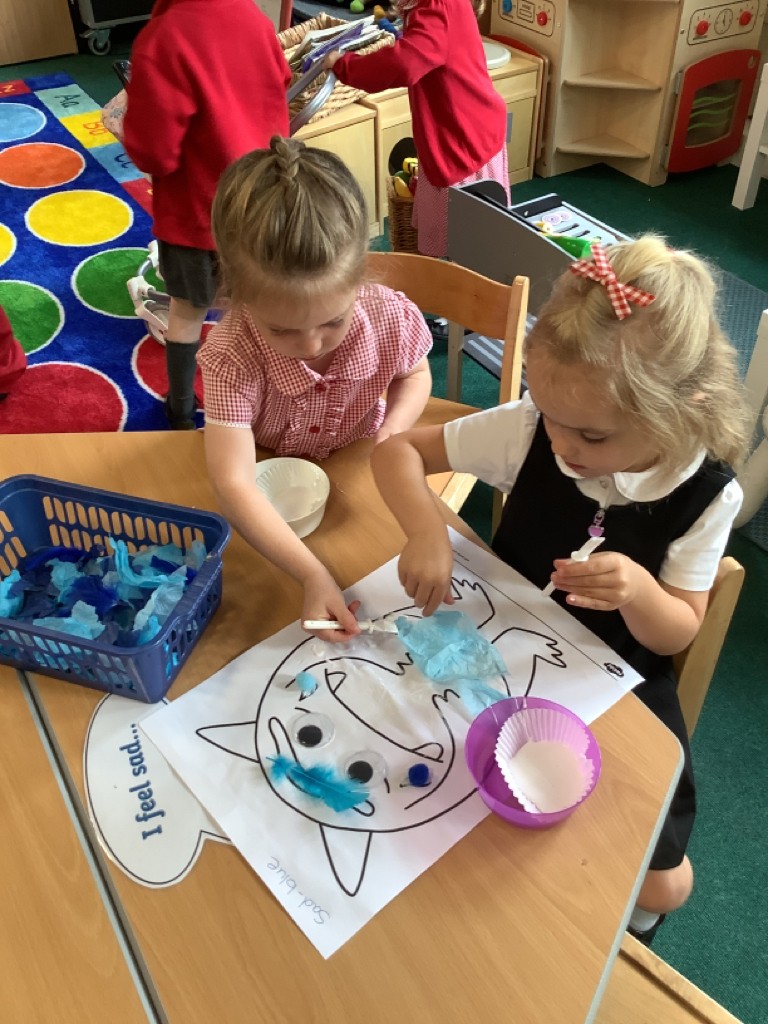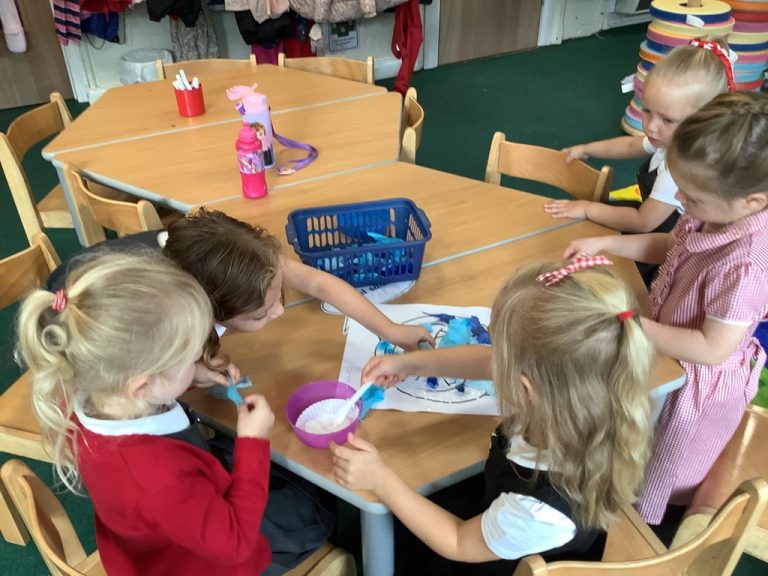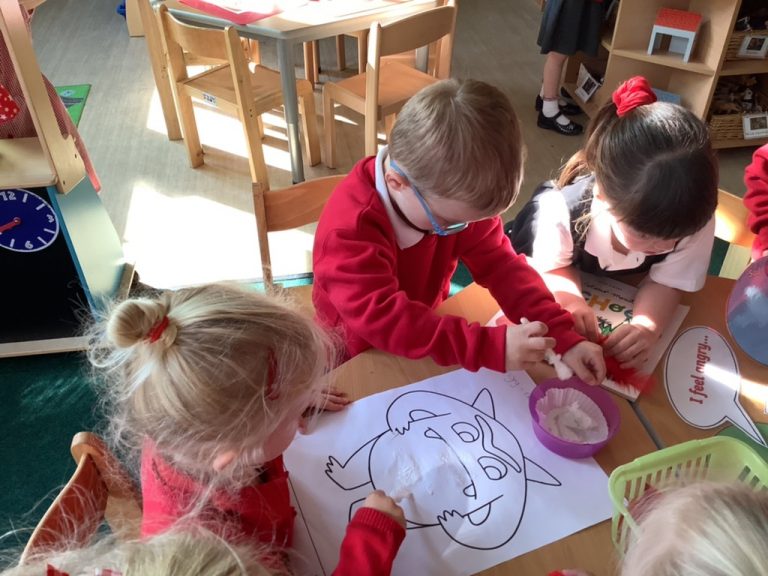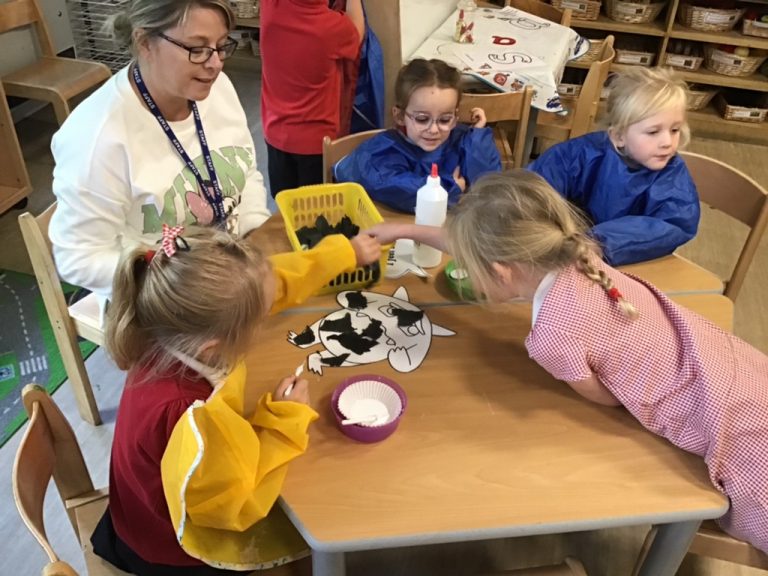 Making New Friends
Our new Ducklings have settled beautifully into school. Everyone has enjoyed exploring our learning environment both indoors and outdoors and have made lots of new friends. We have spent lots of time singing, reading stories and have been busy talking to our new friends when we play games.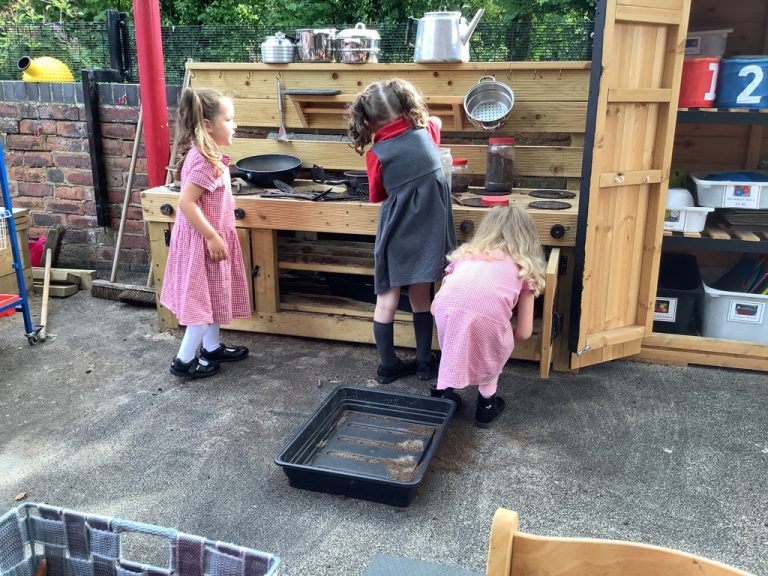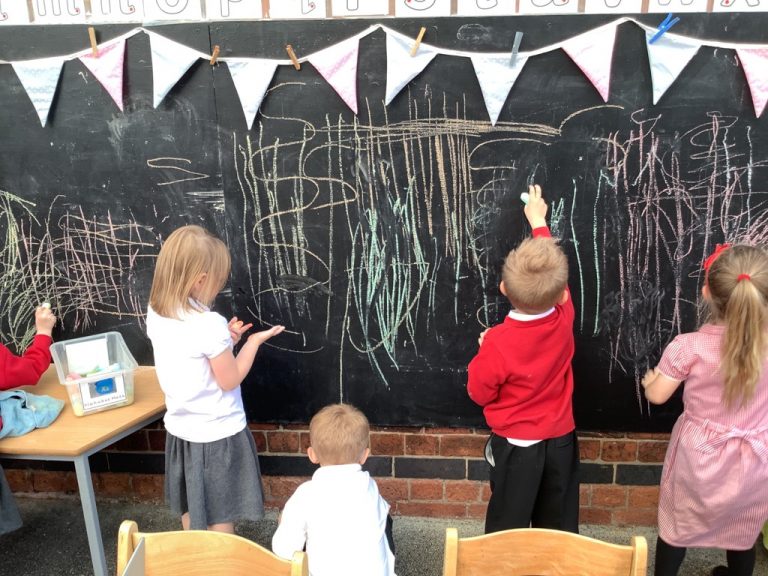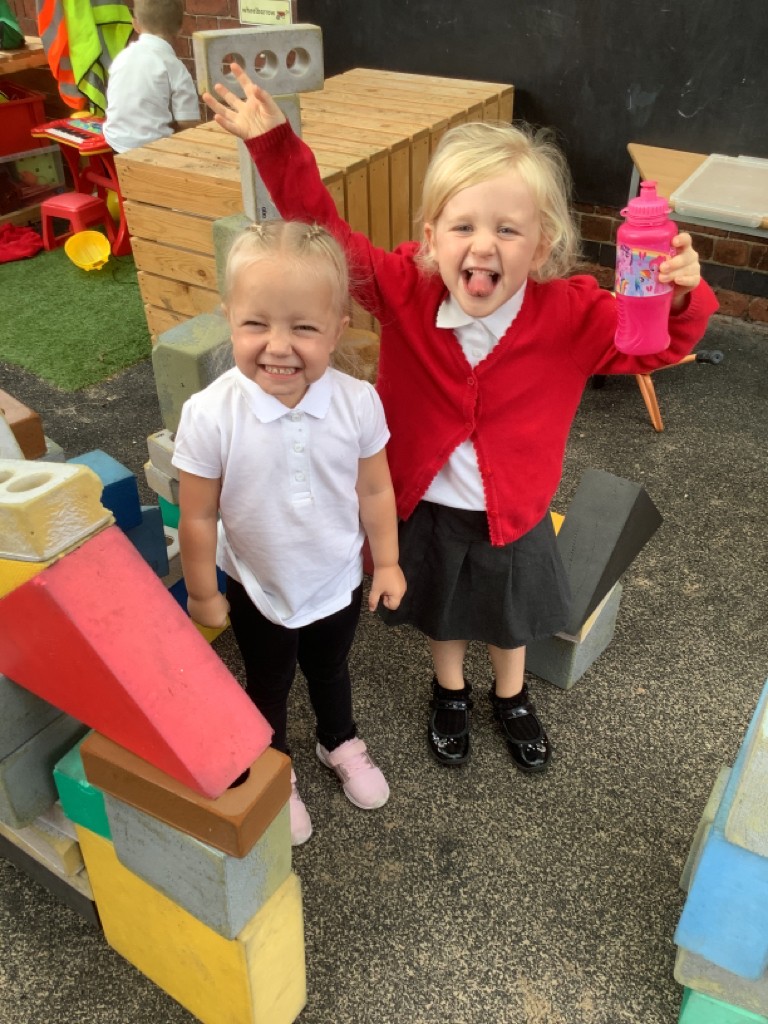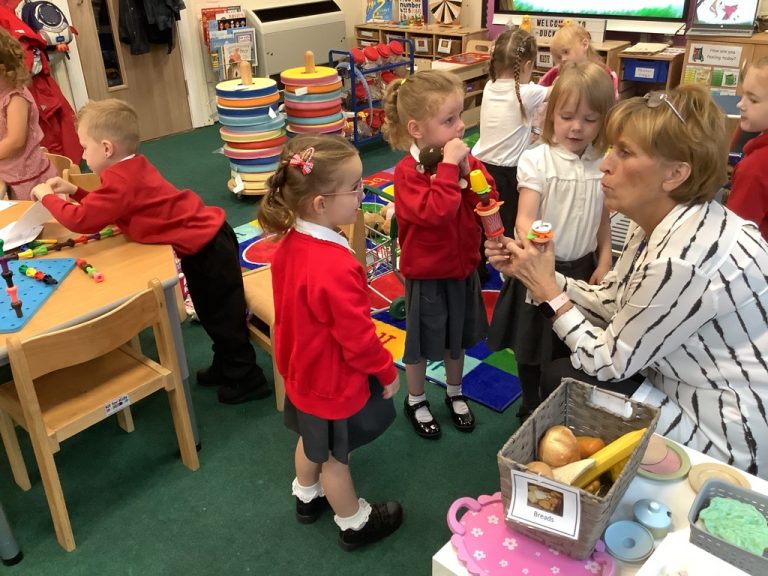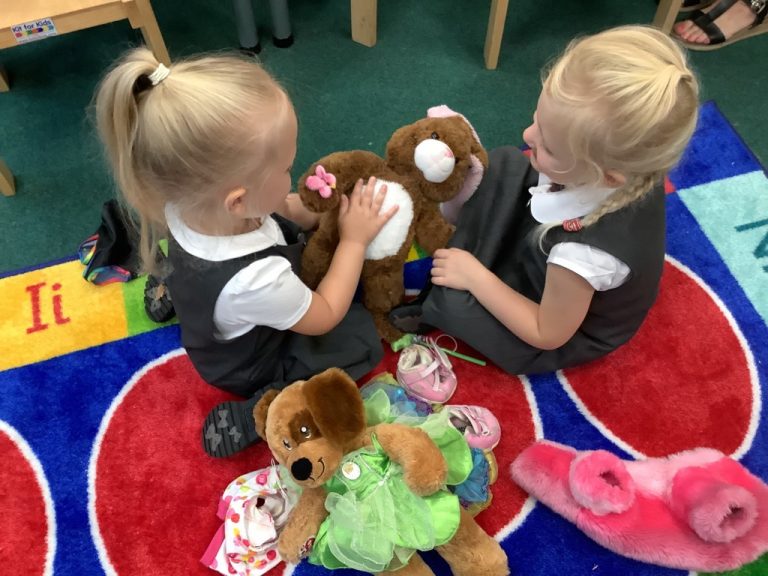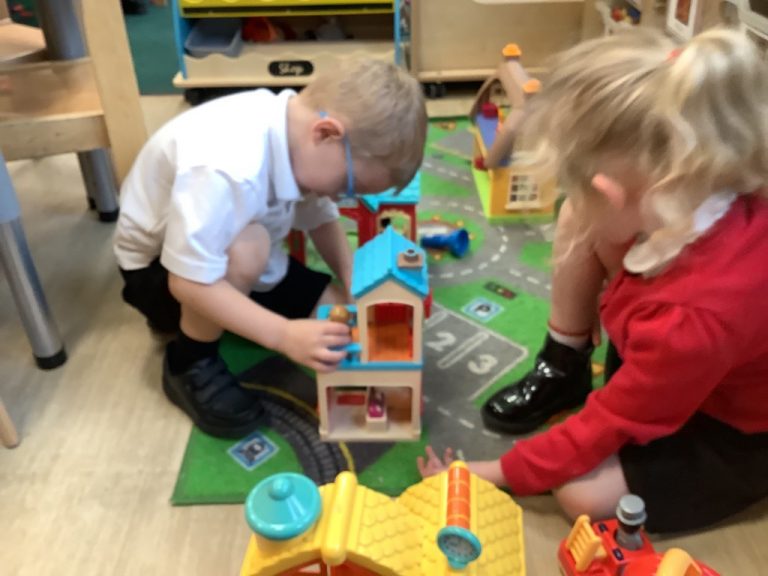 The classroom is ready and waiting. We hope you love school as much as we do!